Hyundai offers up details on next-gen fuel-cell powered SUV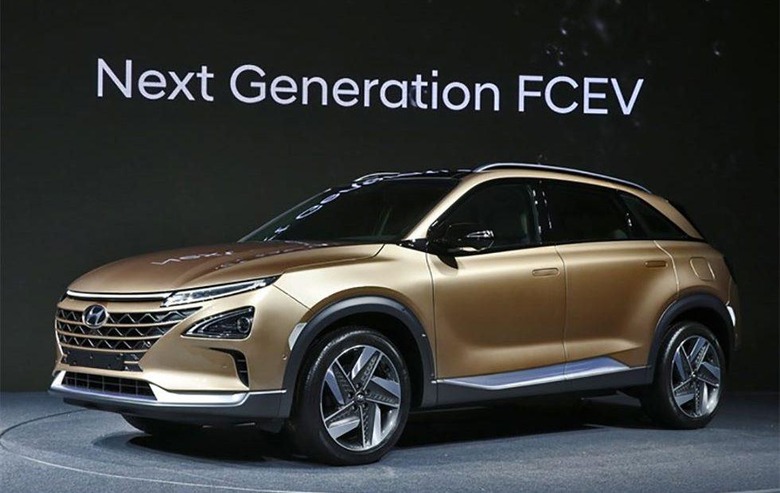 Hyundai has been working a next generation fuel-cell powered SUV for a while now and the last time we talked about that SUV was back in December 2016 when it was tipped to be in development and promising a 348-mile range. Hyundai is offering up some more details on this SUV at a hydrogen vehicle preview event held in Seoul.
As of now the new SUV has no model name, but Hyundai says the "model embodies Hyundai Motor's commitment to a new era for advanced eco-friendly vehicle development." The vehicle uses Hyundai's fourth-generation hydrogen fuel cell technology and boasts improved efficiency to the tune of a 9% increase from efficiency the Tucson Fuel Cell (ix35) offered with the new SUV hitting 60% efficiency level. That means that the fuel-cell EV is good for a range of 580 km, or about 360 miles per charge.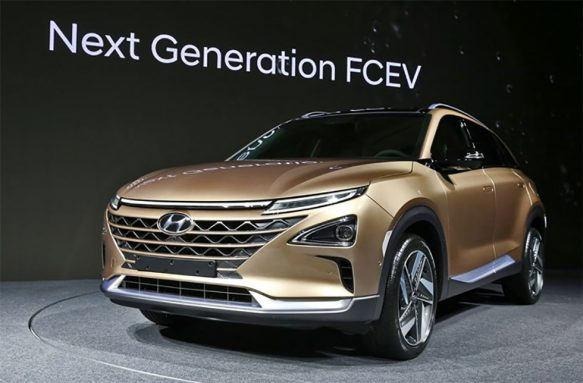 Hyundai wrote, "By enhancing fuel cell performance, reducing hydrogen consumption, and optimizing key components, the vehicle's efficiency is greatly improved compared to the its predecessor, the ix35 Fuel Cell (Tucson Fuel Cell in some markets). The new SUV boasts an efficiency level of 60%, or a 9% increase from the ix35's 55.3%. With enhanced system efficiency, the new model targets a driving range of more than 580 km on a single charge (based on Korean testing standards)."
The new hydrogen vehicle also has improvements in storage tank density boasting three equally sized tanks rather than tanks of two different sizes. The vehicle also make more power with a 20% higher max output compared to the previous version. That means 163PS, or about 160 hp of output. Hyundai plans to mass-produce the vehicle and will pack inside advanced driver assist technology. It's unclear when the SUV will go into production or when and where it might be available.
"With exceptional efficiency, serene styling, and uncompromised performance, our next generation fuel cell SUV is the true epitome of an eco-friendly vehicle of the future," said Lee Ki-sang, Senior Vice President of Hyundai Motor Group's Eco Technology Center. "Hyundai Motor will take lead in developing and producing green energy vehicles that would ultimately complement a near-zero emission society."
SOURCE: Hyundai