Hyundai Ioniq Blue Link supports Amazon Alexa voice commands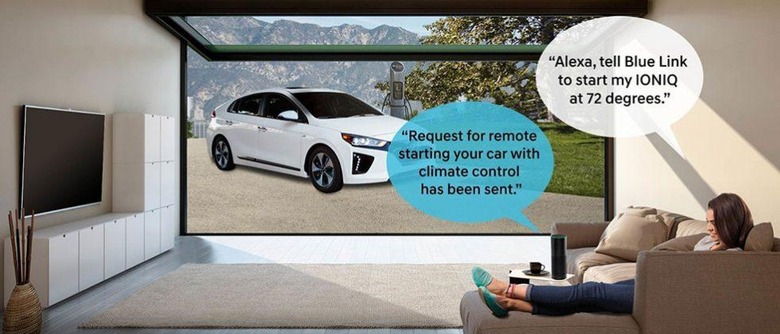 Hyundai has announced a new feature that owners of the Ioniq EV and plug-in EV can use that takes advantage of Blue Link and Amazon Alexa. By using Amazon Alexa voice commands owners of Ioniq vehicles can perform tasks such as starting and stopping charging of the EVs.
Voice commands can also be used to remotely start the engine and climate control on supported models. Owners can also use their voice to lock and unlock all Hyundai models and remotely activate the horn and lights across all models. Supported Hyundai Ioniq models include the Ioniq electric, Ioniq Plug-in, and Sonata Plug-in.
Hyundai's Blue Link service offers connectivity inside the car with features like Remote Start with Climate Control, Destination Search, Remote Lock and unlock, car finder, enhanced roadside assistance, and stolen vehicle recovery. Users have to enable the Blue Link skill inside the Alexa app that is offered for iOS, Android, and Fire Tablets. The Blue Link account has to be linked with the Alexa app and a PIN number is required to send commands to the car.
These commands are supported on all 2017 Blue Link equipped vehicles. Supported 2016 models include the Genesis, Azera, Tucson, Sonata (SE, Sport Limited, Sport 2.0T, Limited 2.0T, Eco 1.6T), Sonata Hybrid (Limited Ultimate package), Veloster (Tech package), Elantra GT (Tech package). Supported 2015 vehicles include the Genesis, Sonata, and Azera.
"We're excited to work with Hyundai to expand their Blue Link skill for Amazon Alexa to more cars with Blue Link," said Rob Pulciani, director, Amazon Alexa. "Being able to complete simple tasks like locking your car doors, set your car temperature, and more—all with just using your voice from inside the comfort of your home—is a magical experience. We can't wait for Alexa and Blue Link customers to try out this new skill."
SOURCE: Hyundai News