Hyundai Gurnade Veloster Concept brings race ready style to SEMA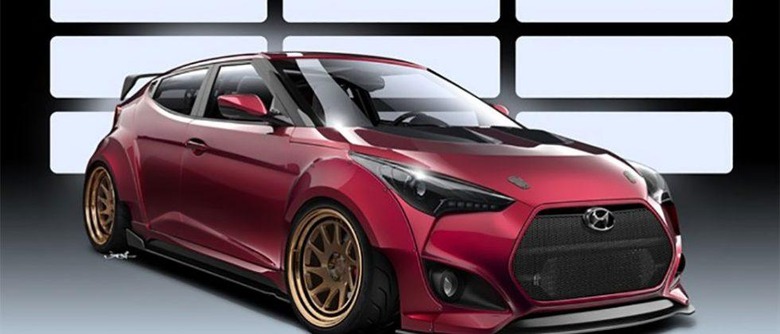 Every year when SEMA rolls around Hyundai spends big money to bring a slew of modified and souped up cars ad SUVs to the show. One of the rides that will be showing up this year is called the Gurnade Veloster Concept. This concept isn't all about power like the Santa Fast SUV that will be at the show. The Gurnade Veloster Concept is more about being ready to hit the race track, not that it lacks power adders.
The concept takes the aggressive style of the Veloster and turns it up with integrated fender flares to cover larger rubber, a front splitter, racing canards, three-piece forged wheels, and custom rear spoiler. The result is very attractive and should help the car with aerodynamic performance at the race track.
"Gurnade has always been drawn to the uniquely aggressive lines of the production Veloster," said Joshua Cloud, owner of Gurnade, Inc. "So when Hyundai approached us with the opportunity to develop one of their vehicles for SEMA, we didn't hesitate to create the Gurnade Veloster Concept. It leverages all the strengths of the Veloster and takes it where we always envisioned it could go."
The list of modifications to the car is very long, the engine gets an 845 Motorsports intercooler, downpipe, and cold-air intake. It also has an 845 Motorsports ECU tune, Synapse blow-off valve, and ARK Performance cat-back exhaust. The chassis is fitted with NEO motorsports coil-overs and a 6-piston big brake kit. A strut tower bar, rear torsion bar, and tie brace are also fitted. The wheels are 19-inch Rotiform units and the car rides on competition Toyo tires. The outside of the car has custom paint, hood latches, and lots more. Inside the car has racing seats and harnesses along with updated gauges and audio.
SOURCE: Hyundai