Hyundai Genesis twin-turbo test mule spied in Korea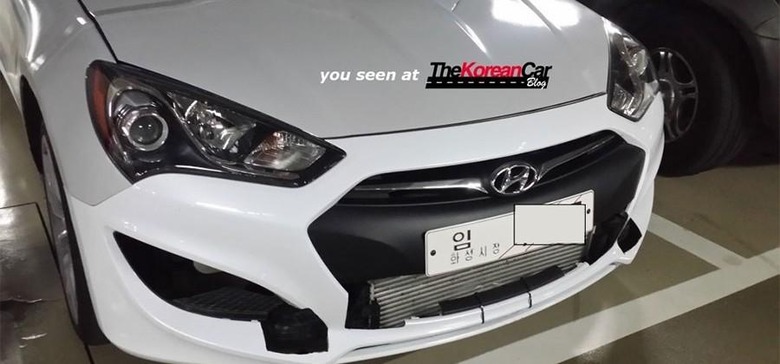 A car that is said to be a test mule from Hyundai has been spied in Korea and word is that it may be the next-generation Genesis Coupe. The car is said to place some interesting power under the hood with a 3.3L V6 engine featuring twin-turbos. That's not all the car is expected to have either, the next-gen Genesis may be quite impressive if these alleged specs turn out to be accurate.
The car in these images was wearing a sticker on the windshield that read, "test car- 3.3T 8AT AWD." That would decipher to a 3.3L turbo engine, all-wheel drive, and an 8-speed automatic transmission. Word is that the car will be offered with three different engines.
If the twin-turbo V6 is really coming, it would be an upgraded engine sitting at the top of the line. The base engine is said to be a 2.0L turbo and the mid-range a 3.8L naturally aspirated engine. Unnamed sources claim that the twin turbo Genesis will be sold under the N Performance designation.
Other rumors claim that the car will have about 480hp. The engine isn't expected to make it to market until the 2017 or 2018 model range. Hyundai American's CEO said recently that the engine would have power around the 420hp mark of the 5.0 V8 Hyundai uses, but weigh much less.
SOURCE: Korean Car Blog