HyperSpace instant-on coming to ASUS notebooks & netbooks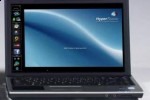 Phoenix Technologies' HyperSpace instant-on system will soon be appearing on ASUS notebooks and netbooks, offering fast access to internet-based applications and automatic network connection while Windows optionally continues to boot in the background.  Once the Microsoft OS has loaded, the user can – device depending – switch between the two platforms, prioritizing functionality or, in the case of HyperSpace, battery savings potentially in excess of 25-percent.  However while the software will be preinstalled on the ASUS devices, users will still be expected to pay Phoenix's annual subscription fees. 
Those fees amount to $39.95 annually for the HyperSpace Dual setup, which will be seen on ASUS Eee PC netbooks, and $59.95 for the more functional HyperSpace Hybrid setup, which requires a Core 2 Duo processor and above.  Hybrid allows for the real-time OS switching and makes the battery life extension promises, while Dual is more akin to dual-booting your netbook, and lacks the OS switching.
It's curious that ASUS haven't absorbed the cost of HyperSpace into their sticker prices, instead choosing to pass on the subscription fees to the consumer.  It seems sensible to me to include the first 12 months use, on notebooks at least, at which point owners would hopefully be so used to accessing HyperSpace that the ongoing subscription wouldn't seem such a big deal.  Paying $40 for dual-booting netbook functionality seems a lot, when you consider the low purchase price of these budget ultraportables to begin with.
Press Release:
Phoenix Technologies Announces Strategic Agreement with ASUS to Accelerate HyperSpace™ Adoption by Consumers

MILPITAS, Calif. January 20, 2009 —Phoenix Technologies Ltd. (NASDAQ: PTEC), the leader in PC 3.0™ products, services and embedded technologies, today announced a partnership with ASUS to accelerate the adoption of its award-winning HyperSpace product by consumers worldwide. HyperSpace is a revolutionary new instant-on and always-connected application environment that makes operating a mobile PC as easy and efficient to use as a cell phone.

Based on the partnership agreement, ASUS will incorporate HyperSpace into their next generation notebooks. With HyperSpace-installed notebooks, users can instantly launch important web-based applications (before Windows® ever boots), automatically connect to the best available network, dramatically extend battery life and achieve new levels of uptime and security protection.

HyperSpace is available for download at www.hyperspace.com

"Phoenix is pleased to be working with ASUS to offer a broad choice of affordable products that revolutionizes the mobile PC user experience," said Woody Hobbs, President and CEO of Phoenix Technologies. "With HyperSpace, we ensure users will enjoy a dynamic online experience seconds after turning on their PCs. And once Windows has fully booted, users will be able to quickly and easily toggle back and forth between their Windows applications and the instant-on, always-available HyperSpace environment. An added benefit is that HyperSpace extends the battery life on an average notebook by more than 25%."

Mr. Hobbs added, "All-day mobile computing is a cornerstone of our PC 3.0™ promise to simplify the PC end user experience and transform PCs into more user-friendly, fun, versatile and effective systems."

"As the fastest growing notebook brand, we are committed to bring to market innovative technology solutions to simplify consumers' lives. We are glad to see Phoenix's PC 3.0 vision is in line with our commitment to our customers. HyperSpace's easy-to-use, smart, instant-on and longer battery life features will allow ASUS to deliver richer, more dynamic products and satisfy our customers' desire to make mobility a far more elegant and intuitive experience," said Henry Yeh, General Manager, ASUS Notebook Business Unit.

Phoenix HyperSpace was named "Best Software" by Laptop Magazine at the 2009 CES and was also winner of Laptop Magazine's 2009 CES Readers' Choice Award. For more information about HyperSpace, please visit www.hyperspace.com