HyperJuice External Battery for MacBook 2012 Lineup hands-on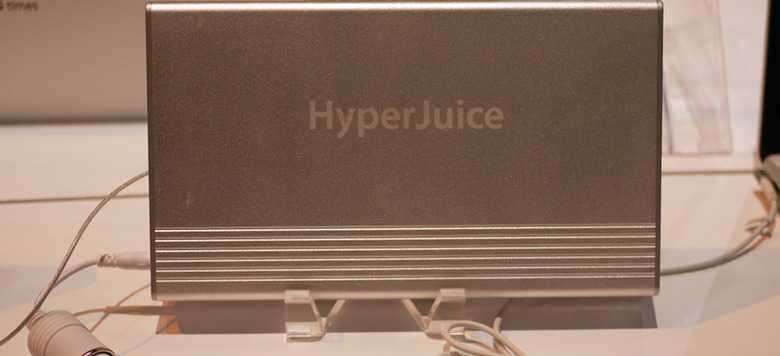 If you're listening to HyperJuice in any one of their many outlets for advertisement, you'll know that they are, indeed, the only external battery for the MacBook, working for any laptop in the Apple line, branded and shaped as such as well. What we got to see this year at CES 2012 was their current 2012 line of batteries sized at 150Wh, 100Wh, 60Wh, and the massive 222Wh. This group has one excellent value proposition for those of you out there in the field relying on the power of your MacBook with worries of a lack of battery hours and a need for a fashionable tote-along that matches the goods.
These batteries are able to power up your MacBook, your iPad, your iPhone, and whatever other USB-powered devices you've got on hand. They're made specifically for every different Apple mobile product under the sun, again moving in a way so very similar to the design language of the Mac that they're using the same white font for the device itself. This name in batteries has been around long enough to be winning awards for best-in-show back in 2010, and with "military grade" lithium ion batteries on the inside with 1,000 charges in the barrel and a built-in short circuit, temperature, and overcharging set of protections, why not?
Inside each box you're going to get the battery itself, a 12-15V DC auto/airline adapter to connect to Apple's unit, and an AC power supply 100-240V to charge the battery itself. You get some printed documentation as well, and the only drawback here seems to be that you'll need your own MacBook MagSafe cord to actually connect to your MacBook – but you've got that, right? Of course you do! All four HyperJuice external batteries are currently available straight from their site for between $169.95 and $449.95 – buy em up!