Hyetis Crossbow smartwatch harbors 41MP camera with optical zoom

The Swiss company Hyetis has unveiled a smartwatch unlike any other you'll find under that category, the Crossbow. Eschewing conventional techy-styled designs and digital displays, the Crossbow instead looks like any other sophisticated, stylish watch, with one exception: a lens on one edge accompanying a 41-megapixel image sensor.
The Crossbow hasn't been completely finalized yet, with Hyetis warning that at its current production stage, some of the technical specifications can change depending on model. For now, the website lists an integrated 41MP camera with an unspecified optical zoom lens and a built-in ring flash, all of which already takes the Crossbow beyond what most smartwatches offer.
The watch is also able to record videos along with audio due to an integrated "high resolution" microphone that has selective noise suppression. Images and video taken with the Crossbow can then be shared to a smartphone, as well as various environmental data delivered with a variety of sensors: temperature, altitude, depth, GPS, and more. There's also mention of biometrics, but the company doesn't go into detail.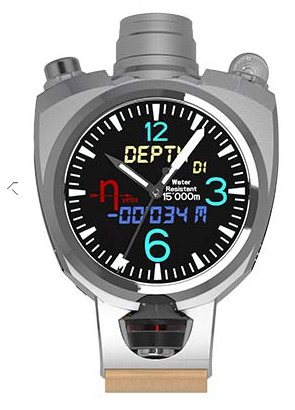 The smartwatch isn't officially available yet, though a special "Early bird" edition is up for pre-order at a hefty $1,200. The special edition features grade-5 titanium with a "Dark Knight" polished, blasted, and brushed finish. The watch is said to be waterproof to 250 meters, and comes with two textile bands, one red and one black. The crown has a red ring and rubber grip, the sensors have protection made from composites and ceramics, and the touch bezel is mirror polished.
We'll have to wait for more details to be published, but it would appear based on the first image above that the watch has a display of some sort as well, with there being weather and messaging icons visible behind the dial, among other things.
SOURCE: DPreview