HydraDock gives MacBooks 11 more ports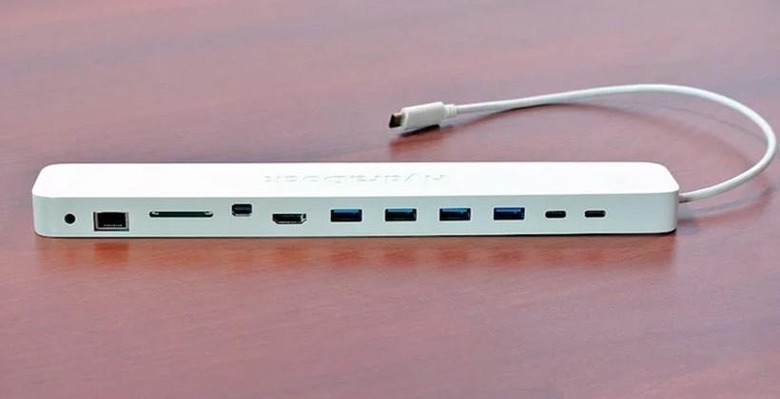 MacBook users often wish that their notebook had more USB ports since all you get is a single USB port on some Apple machines. A new device has debuted called the HydraDock that aims to give you lots more ports, including USB ports for connecting any accessory you can think of from displays to keyboards.
The HydraDock adds 11 different ports for MacBook users. The HydraDock adds in a 3.5mm headphone port, a Gigabit Ethernet port, a SDXC card reader, MiniDisplay Port, a HDMI port, four USB 3.0 ports, and a pair of USB-C ports that do data only and don't support video.
The max resolution supported by the mini DisplayPort is 2560 x 1440 with HDCP. The HDMI port supports up to full HD resolution with HDCP. The dock has a 12.5-inch cable attached with a male USB-C connector for hooking to the MacBook.
The top of the HydraDock is angled and intended to pop up the back of your MacBook for comfortable typing at your desk. HydraDock is on Kickstarter seeking $35,000 and has raised over $65,000 so far. You can order a HydraDock for $129 with delivery expected in June 2015.
SOURCE: Kickstarter