Hycopter drone uses hydrogen gas to fly for 4 hours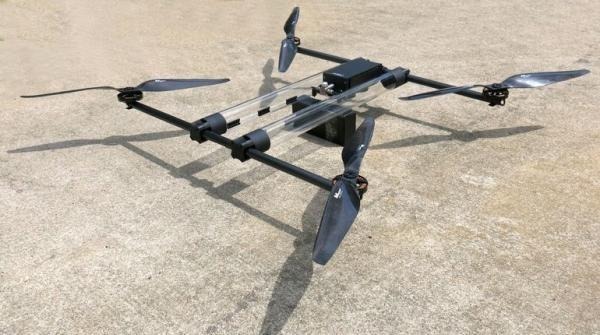 With the rising buzz around drones, some have started envisioning them to become bearers of good news. Or at least the packages you ordered. But while Amazon might have gotten a bit of green light for its delivery drone plans, there remains one technical problem. Drones can't really stay up in the air for long, with some of the best lasting only half an hour. Horizon Unmanned Systems, however, might have a solution in the works. Its Hycopter UAV can fly 2.5 to 4 hours, depending on payload, by using fuel cells instead of lithium batteries.
The use of lithium batteries, basically the same element used to power our mobile devices, is dictated by the need to keep drones light and stable. But that has its obvious disadvantages, primary of which is short battery life. That 25 minutes of flight is on a normal, unburdened drone. Adding a payload adds stress to the battery as well, sometimes even halving the time.
The Hycopter, on the other hand, uses hydrogen gas, 120 g of it in fact. This passes through a lithium polymer hybrid fuel cell in order to become electricity that will power the drone for hours. The energy it generates is equivalent to a 3 kg lithium battery. That's would be more than half the weight of the Hycopter itself.
The drone is still in its early development stages and a lot can still change in the design and materials used. For example, the display model only uses clear acrylic tubes to house the gas, but the prototype will utilize 5 mm thick polymer lined carbon fiber instead. The drone weighs 5 kg and can carry a payload of up to 1 kg. That said, when flying that much, the flight time goes down to 2.5 hours, though it is possible to squeeze in more time by adjusting the distribution of the payload's weight.

Although the prototype has yet to take its first flight later this year, Horizon Unmanned Systems is already taking pre-orders. Pricing is yet to be announced, though the idea of a long-flying drone might be alluring to companies that plan on delivering packages via drones, like Amazon or Google.
VIA: GizMag