Hurricane Matthew wrecks NASA artifacts and buildings at Kennedy Space Center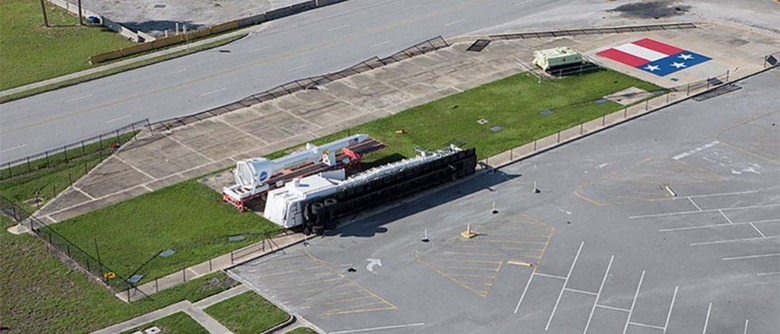 Hurricane Matthew was wreaking havoc in Florida over the weekend and part of the historic Space Coast where the Kennedy Space Center is located was hit by hurricane force winds. The most serious bit of damage to the facility and the public displays happened to the famous rocket garden at the site when the top a Thor-Delta booster fell off during the storm.
The space center was hit by Hurricane Matthew on October 8 with sustained winds of 90mph recorded and gusts up to 105mph. Considering the strength of the storm, the Kennedy Space Center got off relatively light. Other than the top of the rocket missing after the storm, a space shuttle artifact has been toppled.
That particular artifact is the orbiter access arm that was used by astronauts to board the shuttle. That artifact has been on display in the Vehicle Assembly Building parking lot. The status of Pad 39B is unknown, this is the launch pad that is leased to SpaceX. Pad 39B being prepared for the SLS was undamaged.
Many of the buildings around the center were damaged with roofs torn up and panels missing from some buildings. One historic landmark called The Beach House received damage to its roof. The Beach House was built in 1962 and ia s 2-story house that is used as a pre-launch hangout for astronauts. A Navaho cruise missile display was toppled near the front gates of the complex by high winds. Despite some damage by the Hurricane, the center reopened to the public on Sunday October 9.
UPDATE: Officials have reached out and told SlashGear that the top of the Thor-Delta booster was found and removed from the rocket garden after the storm passed and the toppled space shuttle orbiter access arm is now upright.
SOURCE: Collect Space