Humin lands on iOS to make your phone app more human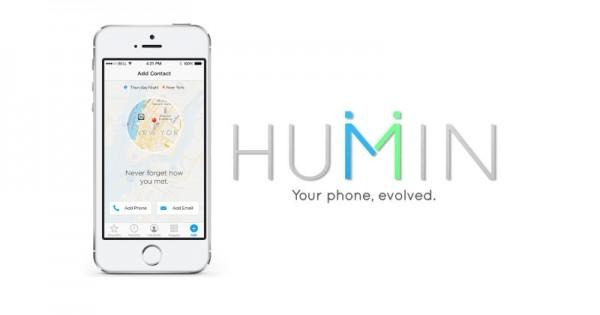 As much as our smartphones have evolved to become smarter, sometimes even more than us, the "phone" part of our devices have changed very little since they day they went digital. Humin wants to change all that. Now available for iPhones, Humin replaces the default iOS phone and contacts app to make collecting people's names and numbers a richer and more memorable experience.
Ever bump again into someone you just met, only to realize you don't exactly remember their name or how and where exactly you hooked up? Have you ever wondered who among the hundreds of people in your phonebook live near your next travel destination. Or conversely, are you interested in knowing who will be in town soon so that you can arrange for a semi-impromptu meet up? These are the very situations that Humin wants to address by revolutionizing how you use your phone and how you search your contacts.
Most phone apps would let us search by number or by name. With Humin, you can make more meaningful searches, like contacts that you met, and by implication, added, just last week. Most phone apps would simply dump people's numbers or email addresses in our hands. Humin gives users more meaningful and relevant information. It gives you the context and location of your first meeting, helping jog your memory of that occasion. It shows you information you wouldn't normally add in yourself, like where they studied, in case you know someone from the same school or even went there yourself.
All of these are features you get sometimes with no extra effort on your part. Simply add a phone number or email address and Humin will do the rest for you, adding a name, a profile photo, and all other interesting tidbits you might want to know. It doesn't really say where it's getting the information from, but with the amount of personal details we put up on the Internet, it isn't really surprising. Humin even automatically keeps entries up to date for you, marking entries and details that are no longer relevant or accurate. Of course, it does have the staples of any phone app, like leaving visual voicemails, sending messages, viewing interaction history, and, of course, a good old fashioned keypad.
Apple may advertise Siri as your personal assistant, but it has nothing on Humin. At least not yet. Humin is like a super intelligent, self-maintaining rolodex that may not remember when your next date is but will at least remind you where you met him or her. With all the smart features that Humin offers, it is almost surprising to learn that the app is available in iTunes App Store free of charge. So give it a whirl and make your phone smarter, more retentive, and more human.