Humble Indie Bundle 6 comes packing with Torchlight, Bit.Trip Runner, and more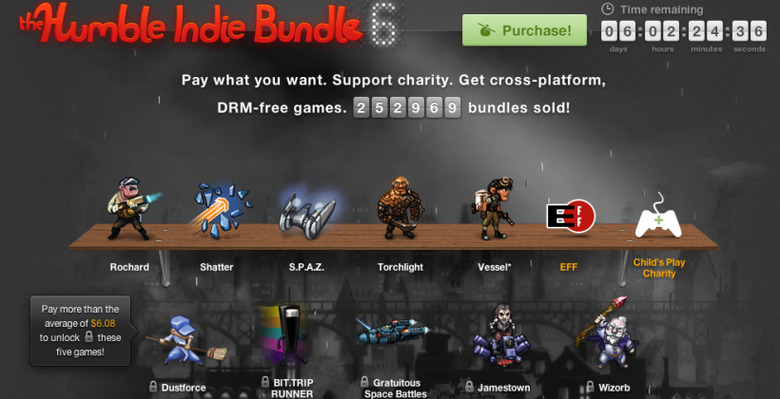 If you're a gamer who enjoys indie games while also saving money, then you've no doubt heard of the Humble Indie Bundle. It's in its sixth rendition already and it comes with some pretty sweet titles. The best part is, you can pay whatever you want for the set of games. Only want to spend a penny? No problem! However, at least think about paying a little more, since the funds go to the Child's Play charity.
Humble Indie Bundle 6 comes with Rochard, Shatter, S.P.A.Z., Torchlight, and Vessel. However, if you pay more than the average giving price (which is currently $6.08 as of this writing), you'll also get Dustforce, Bit.Trip Runner, Gratuitous Space Battles, Jamestown, and Wizorb. This means you can get ten games for the price of at least $6 and some change.
On top of the games, you'll also receive the soundtracks to nine of the games (Vessel excluded). Ten games and nine soundtracks sounds pretty good to me. They say it would cost you $135 if you bought all of this content at retail price, so we can't really find a reason to say no.
All the games work on Windows and Mac. This is also the first time that all the games in the Humble Indie Bundle are supporting Linux. You can also import these into Steam. After your purchase, you'll receive redeem keys to enter into Steam. After that, Steam will import these games into your library and you'll be able to play them through the client.