Humble Freedom Bundle gives massive games pack charity twist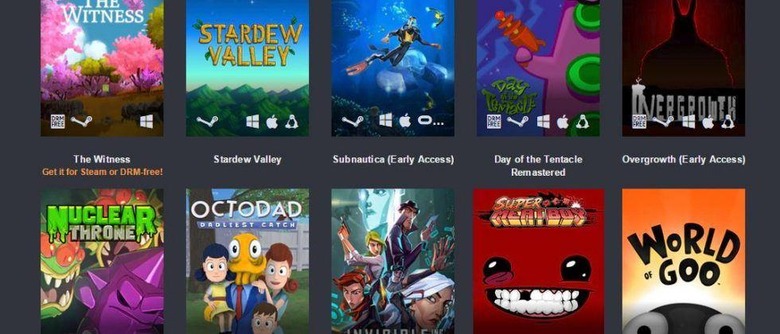 Ever since it first got rolling all those years ago, Humble Bundle has offered a countless number of pay-what-you-want bundles for charity. If there was ever one that was too good to pass up, though, it might be the latest. Say hello to the Humble Freedom Bundle, an absolutely massive bundle that brings together dozens of books and games in one big package that benefits three very important charities: the ACLU, Médecins Sans Frontières (Doctors Without Borders), and the International Rescue Committee. What's not to love?
Given the sheer size of this bundle, you won't be able to get away with paying just a few dollars. Instead, it looks like the floor is $30, though if you want to pay more for the Humble Freedom Bundle, you are obviously more than welcome to do so. While that may seem like a lot of cash compared to bundles of the past, have a look at everything you get:
Games

The Witness

Stardew Valley

Subnautica

Day of the Tentacle Remastered

Overgrowth

Nuclear Throne

Octodad: Dadliest Catch

Invisible Inc.

Super Meat Boy

World of Goo

Mushroom 11

No Time to Explain Remastered

The Stanley Parable

Superbrothers: Sword & Sworcery EP

Super Hexagon

VVVVVV

Guacamelee Super Turbo Championship Edition

The Swapper

Thirty Flights of Loving

Spirits

Human Resource Machine

RocketsRocketsRockets

2064: Read Only Memories

A Virus Names TOM

7 Grand Steps: What Ancients Begat

Mini Metro

Retro Game Crunch

Tower of Guns

Waking Mars

Song of the Deep

Monster Loves You!

AI War: Fleet Command

Sproggiwood

Hot Tin Roof: The Cat that Wore a Fedora

Secrets of Rætikon

Ellipsis

Streamline (Early Access)

Ninja Pizza Girl

Robot Roller-Debry Disco Dodgeball

Books

Information Doesn't Want to be Free – Cory Doctorow, Neil Gaiman, Amanda Palmer

Walkaway: Chapter One Preview – Cory Doctorow

R in a Nutshell, 2nd Edition – O'Reilly

The Boys Vol. 1: The Name of the Game – Dynamite Publishing

A Little Gold Book of Ghastly Stuff – Neil Gaiman

The Smart Girl's Guide to Privacy: Practical Tips for Staying Safe Online – Violet Blue

Any Empire – Nate Powell
It's hard to argue with that amount of content for $30. As always, the games you get in the Humble Freedom Bundle are mostly DRM-free, and many of them come with Steam keys and are playable on Windows, Mac, or Linux. The e-books, on the other hand, are available in PDF, ePUB, and MOBI formats, while the audiobooks are available in MP3 and FLAC formats.
Even better is the fact that Humble Bundle is matching the first $300,000 raised for the ACLU, MSF, and IRC. "We humbly remember that the United States is a nation of immigrants, and we proudly stand with developers, authors, and charities that champion liberty and justice for all," the website reads. "We chose these three organizations because of the inspiring work they do in providing humanitarian assistance to refugees and displaced people as well as in defense of justice, human rights, and civil rights."
At the time of this writing, the Humble Freedom Bundle has been purchased nearly 18,000 times and has raised more than $500,000 for these three charities. Unlike bundles of the past, which are usually available for two weeks, the Humble Freedom Bundle will only be around for seven days. Hop to it, because we're not likely to see a Humble Bundle of this size for quite some time.
SOURCE: Humble Bundle