Humble Bundle returns offering eBooks galore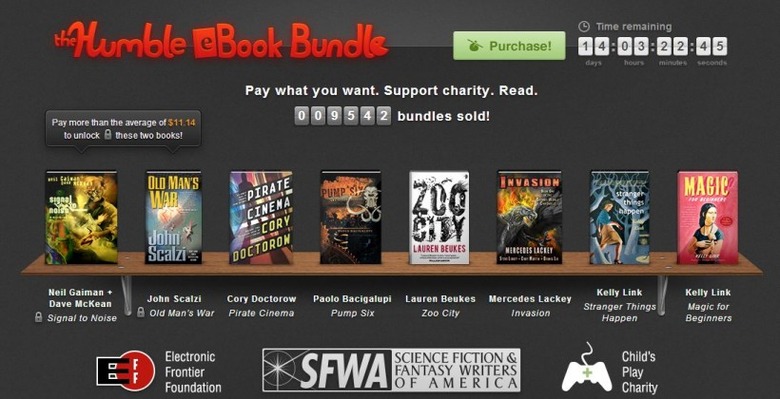 We've barely had time to enjoy the games featured in Humble Indie Bundle 6, but already the Humble Bundle folks are at it again. This time, however, there's a twist. Instead of targeting this latest bundle at the unwashed gaming masses (only kidding), this latest Humble Bundle is all about the bookworms. Ladies and gentlemen, say hello to the Humble eBook Bundle.
Instead of letting buyers name their own price for a series of indie games, the Humble eBook Bundle features a collection of – you guessed it – six eBooks. The eBooks included in this bundle are Invasion by Mercedes Lackey, Zoo City by Lauren Beukes, Pump Six by Paolo Bacigalupi, Pirate Cinema by Cory Doctorow, and two books by Kelly Link, Stranger Things Happen and Magic for Beginners. If you pay more than the average, which currently sits $11.14, you'll also get copies of Old Man's War by John Scalzi and the graphic novel Signal to Noise by Neil Gaiman and Dave McKean.
A new charity has also been added for the Humble eBook Bundle. In addition to the Electronic Frontier Foundation and Child's Play, which have been mainstays since the very first Humble Bundle, a portion of the proceeds from each sale will also be going to the Science Fiction and Fantasy Writers of America. The books are available in PDF, MOBI, and ePub formats, so they should work with computers, eReaders, and mobile devices.
The Humble Bundle folks are quick to point out that many of these books are making their digital debuts in the Humble eBook Bundle, so there may be a few viewing issues left to iron out. Regardless, paying what you want for six eBooks is a great deal, so if you've been on the lookout for new books to read, we highly suggest checking out the Humble eBook Bundle. There's just over two weeks to go before the Humble eBook Bundle says "sayonara," so get those orders in!