Humble Bundle 3 launches for Android, OS X, Windows, and Linux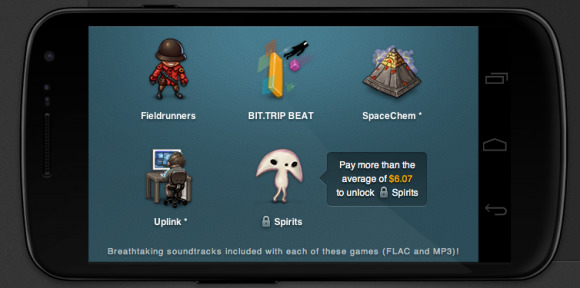 The newest Humble Bundle package of cross-platform games has been released to the public, once again bringing on several fabulous apps for a "pay what you want" price and contributions to charity in tow. This offer brings on now only four games (and a fifth if you pay above the average price), it comes with soundtracks from two of the games in both FLAC and MP3 format! The games Fieldrunners, BIT.TRIP BEAT, SpaceChem, and Uplink are included in the normal bundle, and if you pay more than the average paid price (currently $6.07), you get the game Spirits as well!
This offer supports both Child's Play Charity and the Electronic Frontier Foundation in addition to the folks at Humble Bundle that put the offer together and the developers that created the games. Have a peek at a trailer for the game collection here, and get pumped up for the package!
While the full supported devices and software builds list is here for each of the games, you'll find that if your device is relatively new, you'll be set. Strange devices such as the Orange San Diego and the HTC Wildfire S are not included with games such as BIT.TRIP BEAT, for example.
If you purchased each of these games separately, you'd have payed somewhere around $52 USD, but with Humble Bundle, you'll pay whatever you decide is right. This release is the first that several of these games will be popping up on Android and Linux – so it's also a double-whammy!
If you head over to Humble Bundle right this second, you'll be able to move sliders back and forth for how much cash out of your contribution you want to go to the Developers, how much you want to go to Charity, and how much you want to push as a Humble Tip. Make a standard payment amount or go custom priced!