Human-powered helicopter breaks world record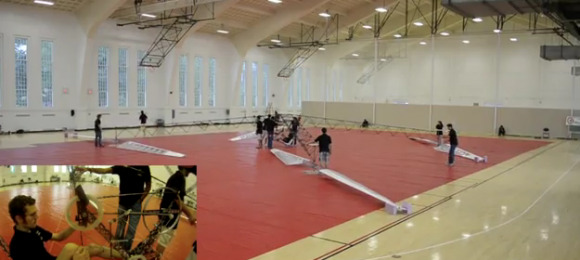 This week we've got a human-powered helicopter out there in the world that's flown a larger amount of time than any human-powered helicopter in the history of the world. This device is called the Gamera II, and is essentially a mass of metal, cables, and one human being. There are four rotor blades, the vehicle is 105 feet across, and the whole thing weighs in at just 71 pounds.
What you've got here is a system of cables that allows the pilot to fly the system, and with this much more difficult than it looks amalgamation, a team of University of Maryland Students have broken the flight duration record by a whole heck of a lot. With the last record for such a system being 11.4 seconds (and incidentally set by the first version of this same vehicle), a massive 50 second flight this time around has solidly set this group of engineers in the history books.
The university's school of engineering's Alfred Gessow Rotocraft Center has been credited with the creation of the device, and the team is moving ever closer to the coveted Sikorsky Prize for just such a craft. The Sikorsky Prize is given by the American Helicopter Society and requires that a winning entry hover 10 feet off the ground for 60 seconds. The team responsible for the Gamera II will continue their quest for hitting those requirements throughout the summer (and possibly beyond). Have a peek at the 50-second test here:
Creating a craft such as this has its risks, one of which is drifting into a wall since the craft doesn't have much in the way of directional control. We expect this team to break the record again very soon.
[via Discovery]