Huge Media Center Remote Hacked From Dance Mats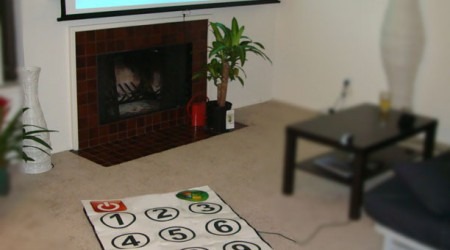 As vast remote controls go, this one will take some beating.  Cobbled together from an already pretty large Brookstone universal remote and two Dance Dance Revolution play mats, the end result is one of the biggest Windows Media Center controllers we've seen.
Video demo after the cut
A converter box was required to hook up the two Playstation dance mats to a PC; they get mapped as HIDs/joysticks.  Some custom C# code acts as the interface between them and the Media Center, with buttons mapped to different keystrokes.
The last step is redecorating the two dance mats with some suitably large icons.  Who knows, perhaps this is the best way to get fit while watching TV.  If you're interested, the source code is free to download and tweak for your own projects.
[via Hacked Gadgets]