Huge e-paper screens give Japanese disaster advice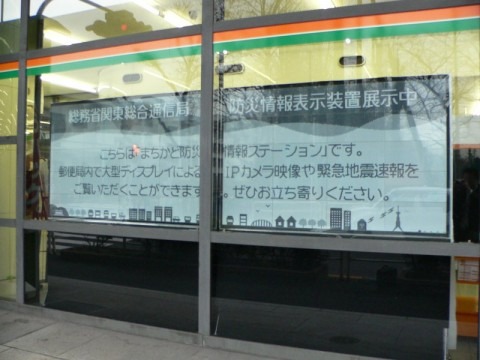 We're used to seeing e-paper in sub-10-inch squares, slapped onto the front of an Amazon Kindle or Sony Reader, but over in Japan they're experimenting with using the technology to give Tokyo residents large-scale disaster warnings and evacuation advice.  Two installations were fitted, the first measuring 1 x 3.2m in a Post Office window, while the smaller second panel, at 60 x 40cm, was added to a bus-stop. 
A new wireless network was set up to feed information to the two panels, which will be on display until January 29th.  The larger screen – which is in fact made up of forty 48 x 96-pixel panels, adding up to a total 240 x 768 resolution – consumes around 24W, while the smaller – made up of three stacked 48 x 96-pixel panels, adding up to 144 x 96 resolution – consumes around 9W.  Each has a pixel pitch of 4mm.
The e-paper was supplied by Toppan Printing Co Ltd, while the project as a whole was implemented by the Ministry of Internal Affairs and Communications Kanto Bureau of Telecommunications.  It remains to be seen whether e-paper will be adopted as permanent signage.