Huawei's FreeBuds 3 look like AirPods, but don't let that fool you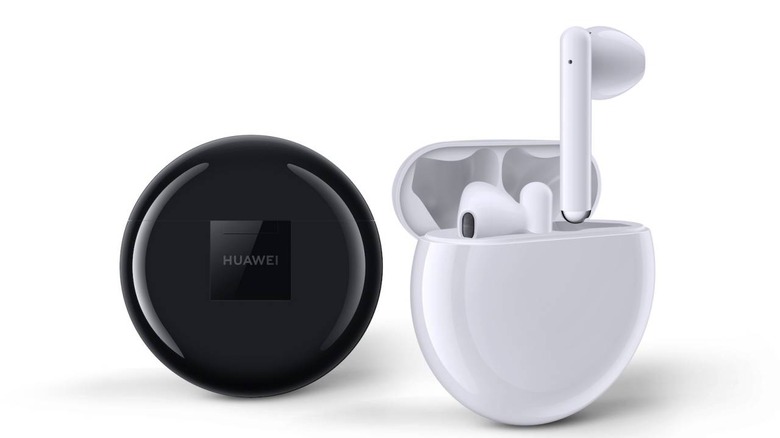 Yes, the Huawei FreeBuds 3 True Wireless Stereo Earbuds look a set of knock-off Apple AirPods, and yes they have a ridiculously long name, but look past those two factors and things get a lot more interesting. Unveiled at IFA 2019 today alongside a creatively cunning way for Huawei to announce a new phone without falling victim to the Trump Android ban, the FreeBuds 3 are more than just an Apple copy.
First, the obvious. Huawei's earbuds definitely look a lot like AirPods. The fact that they'll be offered in black is a nice option – something Apple continues to refuse to do – but there's no denying that both the buds and their flip-top charging case feel like they could've been Design B in Jony Ive's AirPods look-book.
Inside is where things get interesting. Huawei developed its own Kirin A1 chip to power the FreeBuds 3, rather than looking to Qualcomm or others for a Bluetooth platform. It's the first BT 5.1 and BTL 5.1 wearable chip, the company claims, a 4.3 x 4.4 mm SoC that's intended to make Bluetooth headphones more flexible and higher quality.
Unlike earlier Bluetooth headphone designs, where a source device – such as your phone – connects to one earbud, and then that in turn connects to the other earbud, the Kirin A1 allows a phone to pair directly to each of the FreeBuds 3 earbuds. The dual-channel synchronous transmission mode also allows two sets of headsets to get the stereo from a single source device.
There's also adaptive frequency-hopping, which Huawei says should help avoid interference. If the Kirin A1 spots congestion in its current 2.4 GHz channel, it can automatically switch to a new one. Latency is down to 190 ms, Huawei claims.
Even more interesting is active noise cancelation. That's something which, so far, we've only seen on one set of earbuds: Sony's well-reviewed WF-1000XM3. Huawei says the Kirin A1 can do real-time call noise reduction, as well as assess the shape of the wearer's ear canal and adjust the noise-cancelation to suit that, even though they're a more open design than the canal-sealed Sonys. Double-tapping the left earbud toggles ANC on and off.
14mm drivers and a bass tube design rounds things out, while the earbuds offer up to four hours of playback and twenty hours total when combined with the charging case. That case supports both wired and wireless charging, too.
Indeed it's a shame that Huawei decided to go with a design that is so reminiscent of Apple's AirPods, because the technology in the FreeBuds 3 stands up on its own. It's hard not to think about Samsung and the days when its products typically looked to Cupertino for their style inspiration. That felt like a lack of confidence in the value of its own technology, something Samsung eventually learned to work through, and which Huawei could well afford to do the same.
Pricing and release information for the FreeBuds 3 is yet to be confirmed.