Huawei Watch Retail Packaging Leaks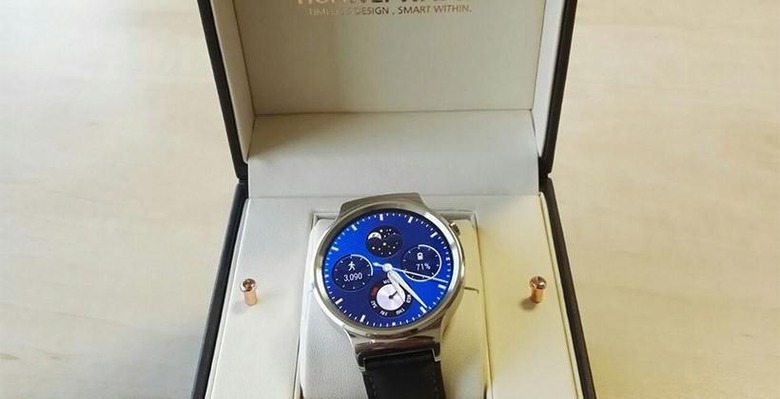 We already know all there is to know about the Huawei Watch. We spent some hands on time with the device back in March and found it to be one of the best-looking Android Wear smartwatches on the market today. One thing we didn't know about the Huawei Watch is how it would be packaged when it heads to retail. That mystery is now over with retail packaging images leaking on the web.
With the Huawei Watch having high-end style and design, it comes in a rather high-end looking package. The box is hinged and opens to reveal the watch sitting on a cushion inside. It looks rather like something you would buy at a jewelry store.
You can see all the images of the retail packaging in the gallery here. If you have missed previous coverage of the Huawei Watch, it has a round 1.4-inch AMOLED screen with 400x400 pixel resolution. That screen is covered with a sapphire crystal to prevent scratches.
The processor is a Qualcomm Snapdragon 400 running at 1.2GHz paired with 512MB of RAM and 4GB of internal storage. The watch also has a gyroscope, accelerometer, heart rate monitor, and Bluetooth 4.1. Power comes from a 300-mAh battery.
SOURCE: Huawei