Huawei Unveils Ascend G615 4.5-Inch HD Smartphone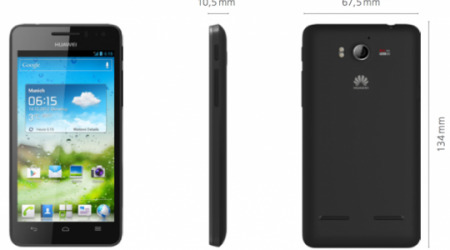 The Chinese manufacturer of mostly average smartphones has announced the Ascend G615, a solid mid-range handset featuring a 4.5-inch display and other decent specs. This is in line with the two higher-range handsets we saw from the company at CES 2013 earlier this month, and is one of a few that will be rolled out during 2013.
While the Ascend G615 isn't the best handset to come from the company, it is certainly a device to keep an eye on for those who want decent hardware at what will likely be a relatively low price point. The 4.5-inch display features 720p HD resolution, as well as a 1.4GHz quad-core HiSilicon K3V2 processor. Inside you'll find 1GB of RAM and 8GB of internal storage space.
The battery is a decent 2,150mAh, which should provide enough power to run the handset for a reasonable amount of time. Around back, there's an 8-megapixel camera with support for 1080p HD recording, as well as a microSD slot for storage expansion in case 8GB doesn't cut it for you. Connectivity is the standard Wi-Fi and Bluetooth.
The handset runs the now slightly dated Android 4.0 Ice Cream Sandwich, and is slated to arrive in Germany and a handful of other overseas destinations in the near future. According to Huawei, a Jelly Bean update will be rolled out for the handset in March, however, and in conjunction with the recently announced G520 handset, all signs point to a promising array of handsets from the company over the coming months.
[via Android Community]