Huawei seeks to overtake Apple in smartphone shipments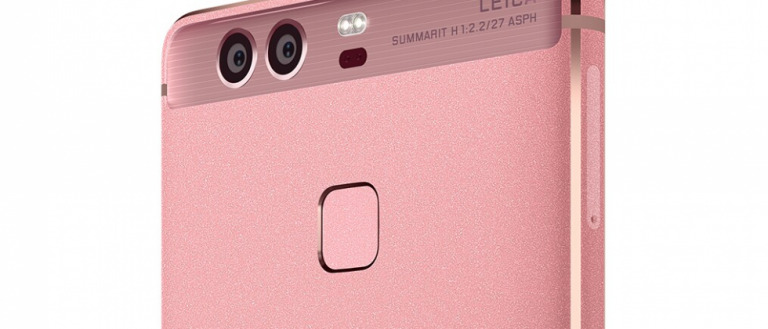 IDC's most recent smartphone shipment report suggests that as Apple's smartphone unit shipments decline, Huawei rises, and Samsung pulls further away from the pack. In the second quarter of the year 2016, Samsung is well ahead of the smartphone-selling group with an estimated 77-million units shipped over the past three months. Next is Apple with an estimated 40.4-million units shipped, then Huawei with 32.1-million units shipped. Huawei was in third place this past quarter as well according to IDC.
The biggest growers on the list are the number 4 and 5 spots in OPPO and vivo. OPPO's estimated smartphone shipments grew a whopping 136.6% compared to this quarter last year, while vivo's shipments grew 80.2%. All other companies combined had a a 10.8% decline in smartphone shipments.
IDC suggests that Huawei's shipments are up 8.4% compared to this same quarter last year, while Samsung's shipments have gone up 5.5% compared to this same quarter last year. Apple's change in this timeframe is down 15%.
The entire market's combined smartphone shipments are down 0.3% compared to this same quarter last year.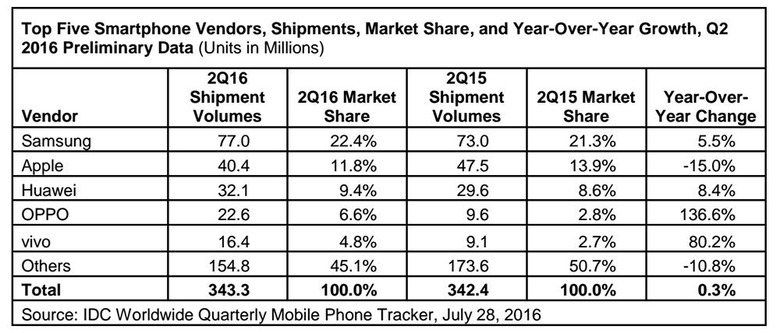 How is it possible that Huawei could be catching up with Apple – and perhaps someday Samsung?
IDC analysts suggest that Huawei's strong shipment numbers come from strong domestic sales (in China) and "even stronger" sales in Europe. Huawei is the number-one smartphone smartphone shipper inside of China at the moment, and China is one massive market. The company is bringing their business to the United States with extremely strong entries like the Nexus 6P, a device carried and sold by Google.
If Huawei can continue to strengthen its position as a high-end smartphone manufacturer, it's not difficult to imagine the company taking market share from the higher-up, more established brands with the promise of unique smartphones customers have never handled before.