Huawei S7 Android tablet up for £300 preorder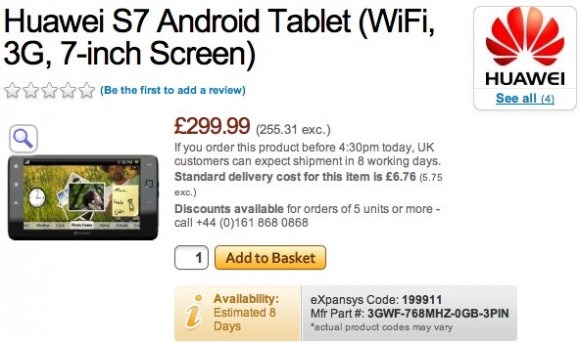 We'll have to be honest, despite seeing the Huawei S7 launch at Computex we never really expected it to arrive in western markets.  Happily it looks like our doubts were unfounded; UK retailer Expansys have the S7 – which runs Android 2.1 on a 7-inch display and packs both WiFi and 3G – up for preorder, with delivery expected in around eight days time.
Priced at £299.99, the S7 holds up pretty well to its most likely rival, the Dell Streak.  At 7-inches the S7 has a bigger touchscreen than the 5-inch Streak, though both run at WVGA resolution, but Huawei also throw in 802.11n support along with the regular WiFi b/g.  There's also a USB Host port for wired peripherals, rather than the Streak's proprietary port.
On the downside, the CPU is a 768MHz chip rather than the Dell's 1GHz, there's no internal storage only a microSD slot, and the camera is a 2-megapixel one rather than the 5-megapixels on the Streak.  According to Expansys you do get access to the Android Market on the S7, but they've no details on battery runtimes or what bands the 3G modem supports.  Still, we asked for more competition to the Streak, and it looks like the Huawei S7 is going to bring it.
[via Android Community]