It really doesn't come as a surprise that Huawei is now getting penalized for what it has more or less admitted to doing. Necroing a practice long thought dead, Huawei has been caught red-handed cheating benchmarks to boost numbers in favor of its Kirin 970 smartphones. Considering the scandal that practically endangered their business, 3DMark developers Futuremark reacted swiftly and has announced that four of Huawei's and Honor's smartphones are now delisted from its benchmark scores.
The cheating system was actually very basic and perhaps even crude. Benchmark makers would have been able to detect it if they had actually explicitly tested for potential cheating. That's what Futuremark did when it learned of the situation from AnandTech and confirmed on its own at least three of the four wayward smartphones.
The benchmark company has used two versions of 3DMark, one from Google Play Store and another a private one for internal use only. It claimed that the Google Play version resulted in numbers almost 47% higher than the ones from their private version. It implies that Huawei's benchmark detection cheat simply detects the benchmarking app by name and modifies the device's power profile to push performance to the limit.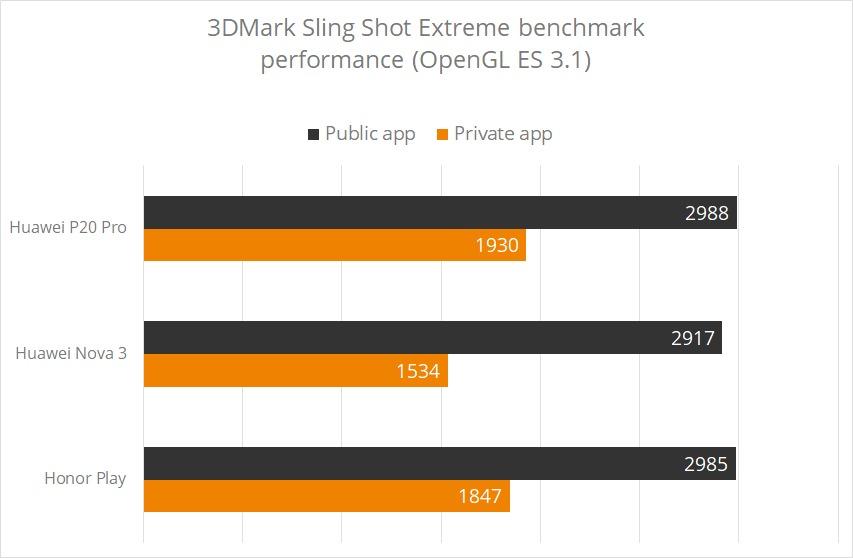 That practice is in clear violation of UL's, Futuremark's parent company, new policies that were updated in light of the benchmark cheating scandal of 2013. Because of that, they have delisted the Huawei P20 Pro, the Huawei Nova 3, and the Honor Play. They also added the Huawei P20 to the list based on AnandTech's testing. These phones will still appear in 3DMark's list but will have no scores and will be at the very bottom of the pile.
The good news is that Huawei has owned up to the act and has promised to make some changes. Specifically, they will be making this "Performance Mode" available for users to switch on or off, something UL's rules do allow. We'll see what Huawei will have to say when it launches the Huawei Mate 20 Pro, with a new Kirin 980 processor, next month.