Huawei MediaPad Pro looks like iPad Pro and Galaxy S10 mashup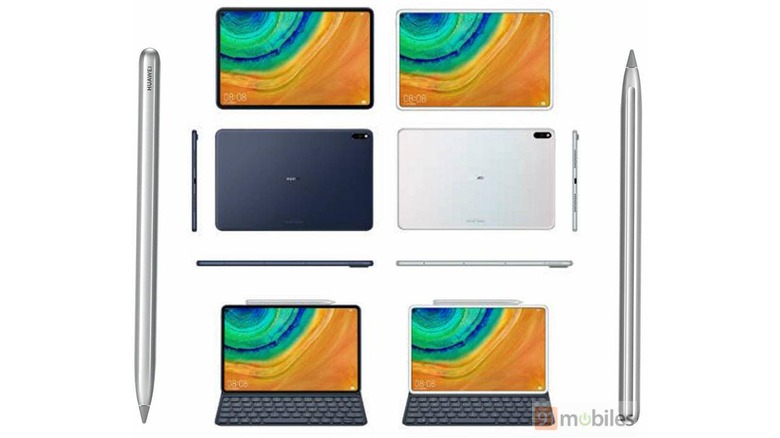 There are only a few mainstream manufacturers making Android tablets these days outside of Samsung's slightly popular Galaxy Tab line. In contrast, Apple's iPads and especially the iPad Pros seem to be thriving both in popularity and sales. So what is a company like Huawei to do? Why not combine both of these brands into one? But rather simply "be inspired" by one or the other design, Huawei's next MediaPad tablet will have one thing neither has: a punch-hole camera cutout.
What was simply known as the MediaPad "Marx" already leaked a few weeks ago. Initially, it was thought to simply be the MediaPad M7, which already comes from a line of somewhat high-end Huawei Android tablets. New leaks, however, suggest that it will instead be marketed as a "MediaPad Pro", which only reinforces the similarities to Apple's premium tablet line.
The renders of the tablet shared by 91mobiles will immediately be compared to the iPad Pro because of the thin bezels though, to be fair, it might also call to mind the latest Galaxy Tab S6 as well. That's especially evident when you flip over the MediaPad and behold what looks like a dual-camera setup, similar to Samsung's tablet. It also has a longer aspect ratio compared to the iPad Pro's wider screen.
Neither the iPad Pro nor the Galaxy Tab S6, however, have solved the problem of front-facing cameras the way smartphones have. They still hide them in bezels, requiring a certain amount of dead space around the screen. This MediaPad Pro, on the other hand, has punch-hole to help reduce those bezels. Admittedly, a tiny circle on the corner of a large screen may actually be less offensive than one on a smaller phone-sized display.
In almost all other aspects, however, Huawei's tablet will really be aiming for association with the iPad Pro, including the placement of the stylus and the keyboard cover design. Huawei is likely to launch this MediaPad Pro next year but will still face the same question the Huawei Mate 30 did regarding its survival without Google's apps and services.