Huawei MediaPad M5 10 Pro tablet leaks ahead of MWC 2018 debut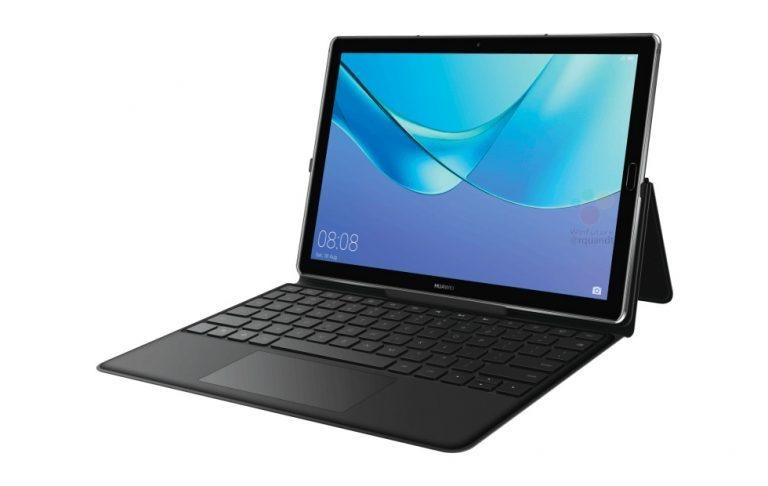 Huawei is the subject of a major leak: its anticipated MediaPad M5 10 Pro tablet has just leaked ahead of its planned Mobile World Congress 2018 debut. Multiple images of the tablet have been published online, as well as key specs. This is one of three MediaPad M5 tablets the company is expected to introduce in coming days.
All signs point toward Huawei planning to launch three MediaPad systems at Mobile World Congress, including an 8-inch and 10-inch M5 model. The larger of the two has leaked via German site WinFuture.de, which shared four images of the machine. The first, above, shows the tablet connected to its folio keyboard.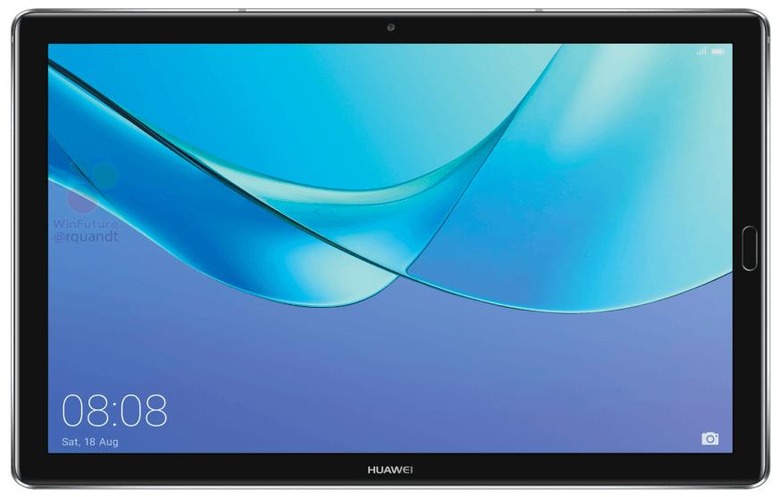 Joining that image is a close-up of the tablet, as well as a shot of the folio tablet and another of it from a side angle. Joining those images are some specs, the most notable being an alleged 2560 x 1600 resolution display. Huawei will reportedly offer the system with 32GB and 64GB capacities.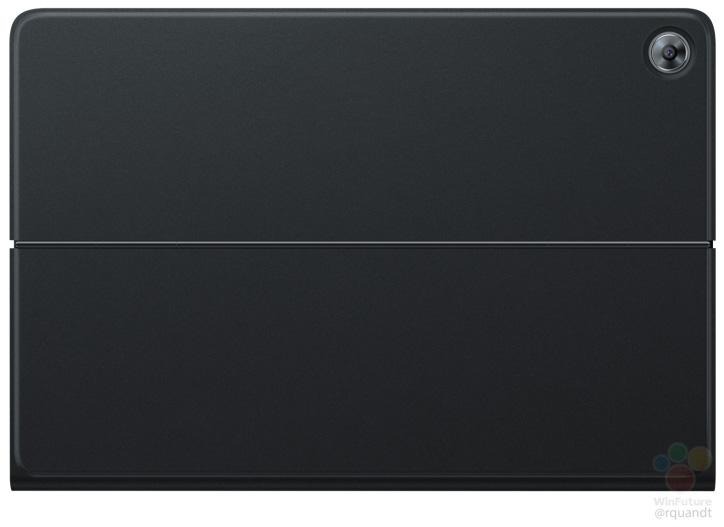 The leak also claims the Huawei MediaPad M5 10 Pro is made with a metal body and it features the fingerprint sensor placed on the edge of the device. The Keyboard Folio Cover has a large camera cut out, indicating that it may be a notable feature on this model (unlike many tablets).
WinFuture.de, via its Roland Quandt, leaked details about Huawei's MediaPad plans earlier this month. According to him, Huawei will be launching three M5 models, two with a 10-inch display, one of them being a "Pro" model with an M-Pen stylus and support for LTE. This model will reportedly cost 520 Euro, but Huawei hasn't confirmed any of these details yet.
Huawei MediaPad M5 8 "Schubert" (SHT-xxx), 4/32GB ~329 Euro (~380 w/ LTE)
Huawei MediaPad M5 10 "Cameron" (CMR-xxx), 4/32GB, ~379 Euro (~420 w/ LTE)
Huawei MediaPad M5 10 Pro "Cameron Pro", 4/64GB, supports M-Pen stylus and comes only with LTE, ~520 Euro
grey color only (?)

— Roland Quandt (@rquandt) February 13, 2018
SOURCE: Twitter