Huawei MediaPad M3 Lite arrives in 10, 8 inch sizes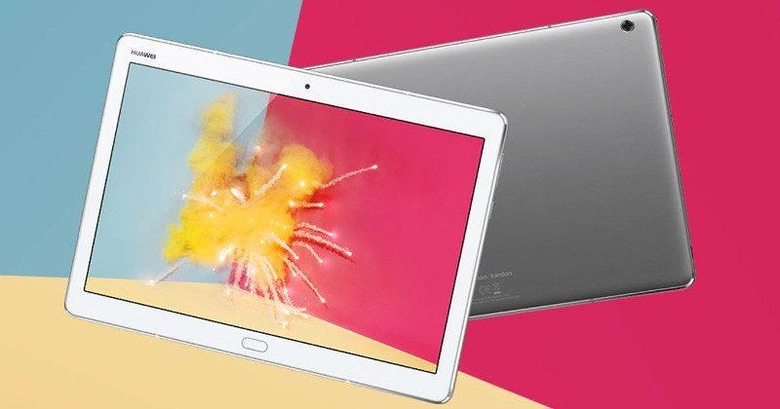 While many Android manufacturers seem to have lost interest in tablets, the device category still has a few supporters, like Samsung, ASUS, and now Huawei. The Chinese OEM has just unveiled its new MediaPad M3 Lite, in 10-inch and 8-inch models, that brings the latest and greatest of Android to the masses. And like its non-Lite namesake from last year, the Huawei MediaPad M3 Lite summons the power of Harman Kardon to give it some added credibility.
The two tablets are nearly identical, which also means they are both unabashedly mid-range tablets. Or at least if you base it on the octa-core Qualcomm Snapdragon 435 running inside. However, buyers will be faced with a couple of choices in terms of RAM and storage, with 3 or 4 GB of RAM and 16 to 64 GB of expandable storage. Both also have the same 1920x1200 IPS displays, which means that the smaller 8-inch model gets a higher pixel density. The MediaPad M3 Lite 10 makes up for it with a larger 6,600 mAh battery, versus 4,800 mAh on the smaller model.
Huawei MediaPad M3 Lite 8
With a name like "MediaPad", you have the assumption of media-centric features. That comes via Harman Kardon-tuned speakers on both tablets. The 10-inch model, however, has a special talent. It has four speakers, which seems to be en vogue these days, whose output adjusts depending on the content. Whether it adjusts depending on how you're holding it, however, isn't detailed.
The MediaPad M3 Lite runs the somewhat latest Android 7.0 Nougat, not 7.1. That at least means getting features like split-screen multi-tasking, improved Doze mode, and Night mode color tuning. As for the design of the tablets, it isn't exactly out of the ordinary, with a pillow-type back that curves at the edges to meet the chamfered aluminum sides of the device.
Huawei MediaPad M3 Lite 10
No word yet on the availability of the Huawei MediaPad M3 Lite, especially in the US. But considering Huawei did also bring the higher-end MediaPad M3 to the US a few months after it launch, there's a slim chance it could to the same with this Lite version.
SOURCE: Huawei
VIA: Helpix