Huawei Mate X just out-folded Samsung on day zero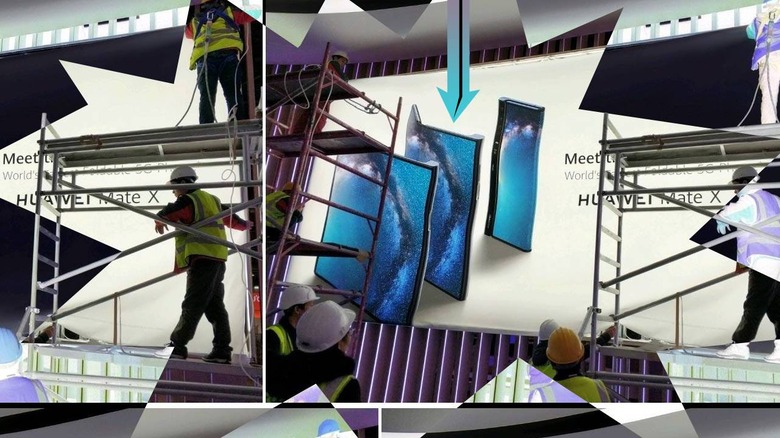 The Samsung Galaxy Fold was revealed yesterday, and today Huawei accidentally revealed their foldable Mate X. I say "accidentally" like it wasn't expected that this billboard wouldn't "leak" the moment it was unrolled – such is the way of things at Mobile World Congress. Such is the way of basically every big tech convention since inception. But that's beside the point – the point is, Huawei suddenly seems to have a foldable display-toting smartphone that looks better that Samsung's first Galaxy Fold – before launch.
The Huawei Mate X has a single large display instead of what Samsung proposes in the Galaxy Fold – which has two. The Huawei Mate X has a single nearly-square (or completely square) display the folds back. The closed device is like a wallet with the display all around the outside.
The year 2019 is going to see a collection of odd smartphones that'll revitalize the industry. Or at the very least, oddities like these will jam new life into the world of tech reporting. I gladly say THANK GOD. When things get weird, I get happy. I love talking about things that are new, rather than just incrementally updated – I'm looking at you, every single smartphone manufacturer.
The Huawei Mate X looks like it's going to do more than just propose a smartphone that unfolds into a tablet. The width of this smartphone is significantly slighter than that of most smartphones. I've barely seen this device in action and it already looks like it'll be more interesting to use than the most expensive phones on the market today – for this I am excited.
SIDENOTE: On the likelihood of a leak like this happening: The likelihood of this sort of thing leaking is high. Either someone was very, very careless, or Huawei doesn't mind a leak like this at all. These sorts of things happen. I recall a similar situation back in the year 2013 with the Galaxy Note 8.0. Samsung wanted to keep the device secret – but they also put the device on a GIANT wall in the middle of the showroom, amongst hundreds of show producers of all sorts. When the situation is like that, leaks like these are inevitable.