Apple and Google are taking a lot of heat for their square camera bumps but they aren't then first ones to use that design. Both credit and blame should be laid on Huawei, whose Mate 20 phones last year bore the square cut. It is almost ironic, then, that Huawei itself is moving slightly away from that new convention in a small but very visible way.
The square camera arrangement may have been unnecessary but inevitable. It was a way to cram four cameras in a smaller space but Huawei itself has another design for that. In a way, it has made the design difference between its P and Mate series. While the vertical arrangement of the Huawei P20 Pro's camera made it look more like a digital camera, the Huawei Mate 20 camera was seemingly designed to be used upright.
The upcoming Huawei Mate 30 won't drastically change the sensor arrangement but does change the area around it. Based on cases revealed by Slashleaks, Huawei is adopting a circular bump rather than a square one. Despite that external aesthetic change, the cameras are still arranged in the same 2×2 grid, both for the Mate 30 and the Mate 30 Pro.
The leak does raise a few questions that may cause doubts about its accuracy. Huawei is expected to be more daring and adopt a bigger curvature on its display. The leaked photos, however, don't support that. There's also a smaller notch than previously leaked, a notch that's supposed to house sophisticated 3D hardware for face recognition. There is also no sign of a fingerprint sensor that was rumored to still be on the phone's back.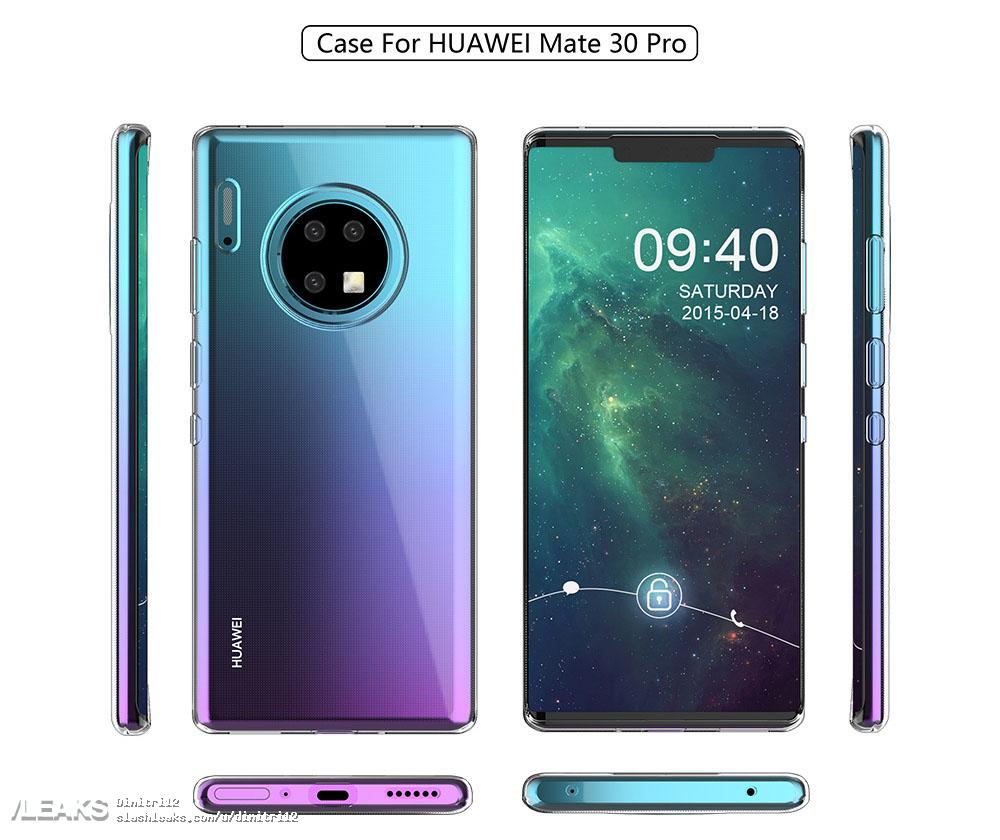 Given these almost conflicting details, there are some doubts whether the Huawei Mate 30 will indeed look like this. Granted, it's not a large departure from the company's design so it is indeed almost believable. What seems to be consistent is at least the square arrangement of the cameras and the lack of a headphone jack on the Mate 30 Pro.