Basically every detail was leaked this week on the Huawei Mate 20 Pro. This smartphone has a unique sort of look to it, featuring three cameras on its backside with an LED flash to make a square camera array. This device has a nearly full-body display up front, with a long notch to house its cameras and frontside speaker.
The reveal of this smartphone is set for Tuesday – next Tuesday – the 16th of October, 2018. This device's press images (renders, but almost certainly official images, leaked to WinFuture) show a couple different color combinations. UPDATE: Make that THREE different color combinations – a gradient, a black, and a blue-gray.
The camera array at the back is 40MP, 20MP, and 8MP – which is nuts. Who releases a 40-megapixel camera on a smartphone here in 2018, much less a 40MP smartphone camera with two other cameras to back it up?! Huawei, that's who. The 40MP camera is said to have an f/1.8 aperture with Light Fusion Technology from Huawei to roll as tight as possible.
Rumors suggest there'll be a 7nm SoC from Huawei in the mix – that's the Kirin 980. This processor amalgamation has three clusters of ARM Cortex CPUs inside – ARM Cortex-A55 x1 and ARM Cortex-A76 (in two groups).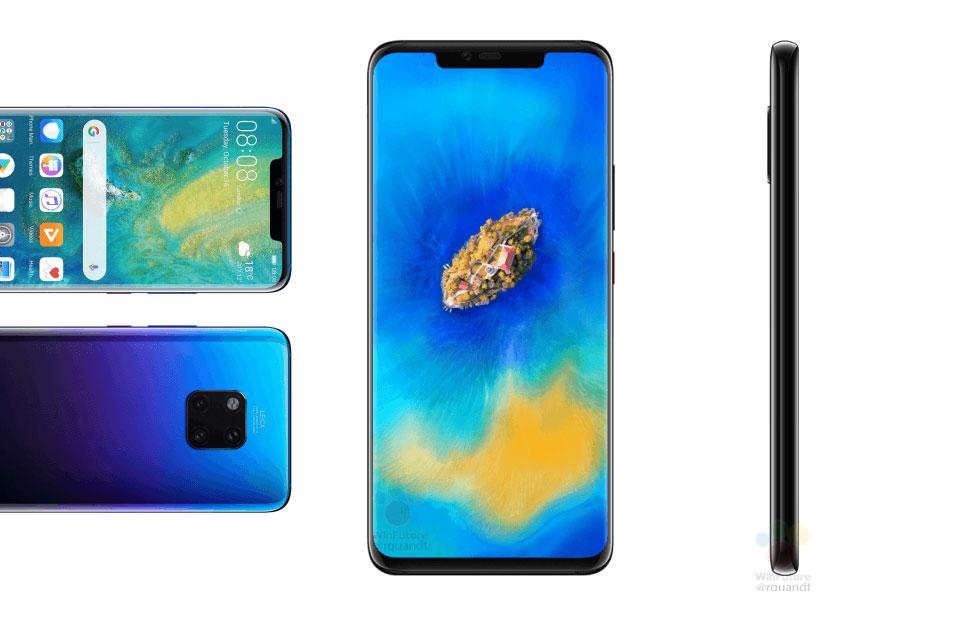 Up front is a Vertical Surface Emitting Laser (VSEL) module. This sits beside a 24MP camera in the notch of a display that's 6.39-inches diagonally. This display is OLED in technology and houses a hidden fingerprint scanner under its middle. Inside is NFC, Bluetooth 5.0, LTE, Gigabit WLAN dual-band, and it's got a big fat battery inside – though we don't yet know the size, the weight suggests it's so: 189 grams right out the box.
This device will launch with Android 9 Pie with EMUI 9 on top. This smartphone will be launched in black, blue, green, and "Twilight." Twilight is the blue-to-purple-to-black color gradient, and the most fancy of the collection thus far. These colors will likely be released on pre-order within the next week, and will probably be out in the public by the end of October.
The Huawei Mate 20 Pro will cost right around 1000 Euro to start – that'll translate to somewhere around $1000 USD or more if it appears anywhere near the US market. This device will be delivered in several multi-color combinations with a couple different internal storage sizes to boot. Get your pocketbooks out, they're about to start on fire.