Huawei Maimang 6 official, 18:9 screen, 4 cameras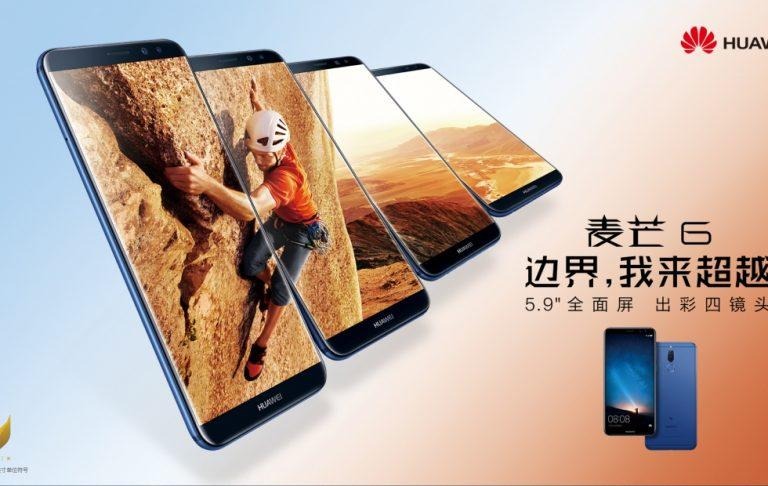 Even before the Huawei Mate 10 could break cover, it seems that its "smaller" sibling has gotten a head start. In China, Huawei officially revealed the Maimang 6. A weird name for English-speaking markets, the smartphone might be known internationally by another name: the Mate 10 Lite. If true, then we are already getting a glimpse of the direction tht Huawei is taking its handsets, which, unsurprisingly, includes an 18:9 "FullView" display and an odd but totally not groundbreaking "quad-camera" system.
Truth be told, that camera system might also be called a "dual dual camera" or a "2x2 camera", because that is practically what it is. As leaked before, there are two cameras on the back, 16 and 2 megapixels, and two on the front, 13 and 2 megapixels. This means that your bokeh needs are covered, whichever side you use.
Equally interesting is the Maimang 6's screen. It is a 5.9-inch 2160x1080 screen, which means an aspect ratio of 18:9 not unlike that of the LG G6 and LG V30. This makes it Huawei's formal entry into the FullView type of screen. The difference, however, is that there are still very noticeable bezels top and bottom and some at the sides. This is no bezel-less phone.
The rest of the Maimang 6's specs are on par with a 2017 mid-range smartphone. That means Huawei's custom-made Kirin 659 processor, 4 GB of RAM, and 64 GB of expandable storage. There's a non-removable 3,340 mAh battery inside. It runs Huawei's EMUI 5.1 custom experience on top of, sadly, Android 7.0 only.
If the Huawei Maimang 6 is indeed the Huawei Mate 10 Lite, we could expect somewhat of the same in the Huawei Mate 10 in two weeks. Except with better specs and perhaps, this time, a nearly bezel-less design. There might also be an embedded fingerprint scanner, though it's more certain that Huawei will play on the machine learning capabilities that its Kirin 970 processor will give the phone.
VIA: Vmall