Huawei Locator squeezes GPS into tiny tracker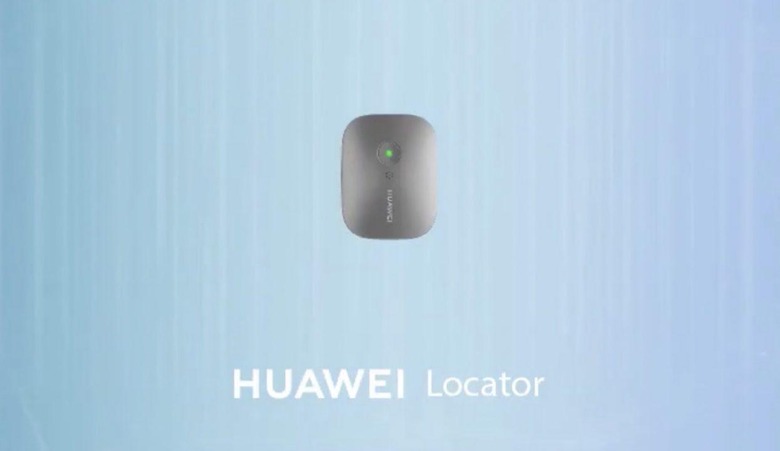 The AI Cube isn't Huawei's only unusual connected gadget revealed at IFA 2018, with the Huawei Locator also making its debut. Joining the competitive beacon segment, the compact dongle promises better positioning courtesy of using actual satellite location data, rather than triangulating its position through Bluetooth as some rivals do.
So, Huawei has squeezed GPS and A-GPS, GLONASS, Galileo, and Beidou reception into the box. That means positioning accurate to less than 5 meters, the company suggests, when outdoors. Inside, you're looking at more like 30 meter accuracy, with the Locator switching to WiFi-based triangulation.
The downside to GPS and its counterparts, of course, is power consumption. Huawei has outfitted the Locator with a 660 mAh battery, and claims that it will run for up to fifteen days on standby. No word, though, on how quickly it'll chew through those milliamps when the GPS radio is pinging in earnest.
Indeed, we suspect that's a best-case scenario. Like other tracking dongles, the Locator will typically be used when paired with a smartphone. It'll automatically sound an alarm if you move beyond around 32 feet, with a built-in buzzer to warn you that you're about the leave something – your laptop bag, perhaps, or your golf clubs – behind.
There's also NB-IoT and eMTC, the new cellular wireless standards for Internet of Things devices. These so-called narrowband wireless systems are part of the LTE Advanced Pro standard, limiting the bandwidth on offer in the name of boosting power frugality. Not every carrier actually supports them, yet – in the US, T-Mobile was the first to join the NB-IoT party, with its CONNECT system – mind.
Still, it might be enough to get you picked up if you find yourself lost and needing assistance. There's an SOS button for that, and the Locator is IP68 rated for water and dust resistance. At around 1.95 x 1.5 x 0.67 inches and approximately 1.4 ounces it's not the smallest beacon out there, but then again most of them don't have to accommodate GPS and cellular radios.
Like the AI Cube, though, Huawei is being cagey about where and when the Locator will launch. That'll presumably depend on what carrier interest it can drum up.