Huawei IDEOS S7 Slim hands-on; X3, HiLink & Mobile WiFi official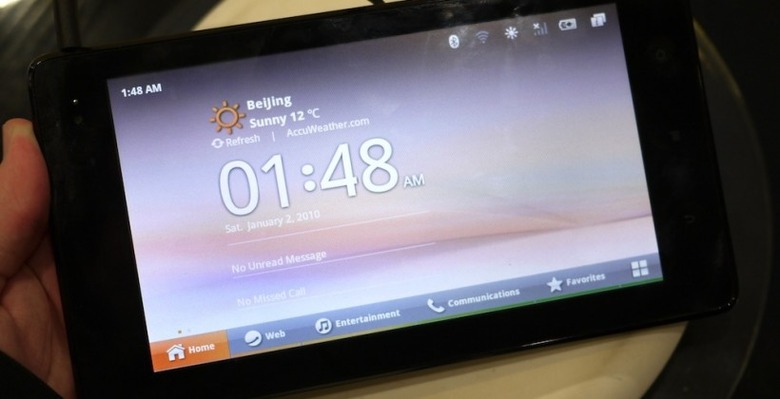 Huawei's IDEOS S7 Slim isn't exactly a tricky proposition to understand: take the original IDEOS S7, shave some heft off the chassis and switch out the unloved resistive panel for a capacitive one instead. As we found with after our hands-on with the slate at MWC 2011, it all adds up to a surprisingly convincing slate.
Gone is the sponginess of the S7's screen, replaced by a reasonably responsive capacitive screen. There's now multitouch support in the browser and other apps, and since there's integrated 3G – along with WiFi b/g/n and Bluetooth – you get Android Market access as well, which puts the S7 Slim ahead of many other low-cost slates. There's also an HDMI output, for hooking up an HDTV.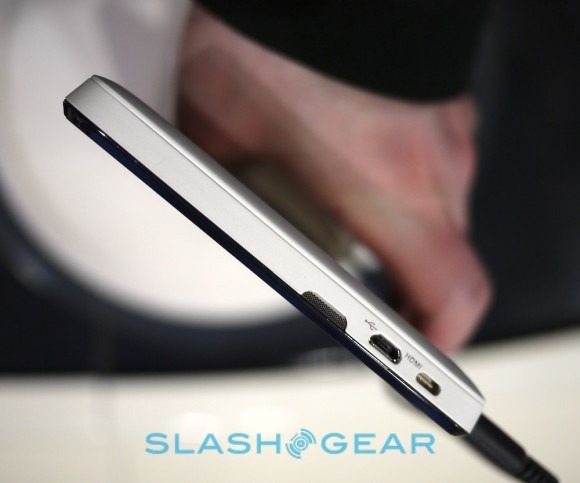 The touchscreen is still WVGA 800 x 480 resolution, however, while rivals like the Galaxy Tab and the new HTC Flyer have 1024 x 600 displays, and Android 2.2 Froyo – even with Huawei's skin – isn't ideal. The software experience is little changed from what we've seen before, so a selection of paneled homescreens split into work, entertainment, communications, favorites and the full apps list. It's obviously not as slick as Honeycomb.
Still, that's why Huawei can expect to sell the IDEOS S7 Slim for under $300 when it arrives on the market in April 2011. Meanwhile,the company has a new smartphone, the X3, and a pair of new modems, the HiLink and the Mobile WiFi Smart Pro hotspot. The X3 is headed to Japanese carrier Softbank in the spring, while the two modems will launch in April and Q2 respectively.
Press Release:
Huawei Reveals Expanded Suite of Smart Devices at 2011 Mobile World Congress

Huawei IDEOS™ X3 Smartphone – Sleek, stylish design, the thinnest device in the 3.2-inch screen range on the market with latest intuitive Android 2.3 interface

Huawei IDEOS™ S7 Slim next-generation tablet now more streamlined for easier portability

Huawei HiLink for automatic, hassle-free Internet connection anywhere, anytime

Huawei Mobile WiFi Smart Pro wireless modem with intelligent routing

Spain, Barcelona, 15 February 2011: Huawei, a leader in providing next-generation telecommunications network solutions for operators around the world, introduced its latest Android Gingerbread smartphone, the Huawei IDEOS™ X3, at the Mobile World Congress in Barcelona on 15th February. The ultra-stylish Huawei IDEOS X3 blends sleek hardware with high-performing software to help users more effectively manage their communication and social networking activities.

At the same event, Huawei also launched the Huawei HiLink, a plug-and-link data card which connects users to high-speed Internet on-the-go, the Huawei Mobile WiFi Smart Pro wireless modem, an intelligent device which automatically selects the best high-speed Internet connection available, as well as the Huawei IDEOS™ S7 Slim, a next-generation 7-inch capacitive touchscreen tablet offering a blend of style and portability.

"The IDEOS range and our latest mobile broadband solutions are intuitive, simple to use products that offer users an enhanced mobile experience integrated seamlessly across different wireless technologies," said Mr. Victor Xu, chief marketing officer of Huawei Device. "As we move into 2011, Huawei will continue to lead the drive to provide consumers with smart mobile connectivity at the right price."

The Huawei IDEOS™ X3 smartphone: intuitive, power-efficient, ultra-stylish

The Huawei IDEOS X3, featuring an ultra-slim exterior, is a high-performing smartphone that boasts a 3.2-inch capacitive HVGA touchscreen, a 3.2 megapixel camera and the Huawei Handset Over-the-Air and Online Upgrade (HOTA) solution for Android, which provides users easy and timely OS upgrades. It is the thinnest device in the 3.2 inch screen range on the market. The smartphone runs on the latest Android 2.3 Gingerbread platform, which features a refined user interface that makes the smartphone easy to navigate, more intuitive and more power-efficient.

The Huawei IDEOS X3 also comes standard with applications that allow users to easily manage information and seamlessly sync their various social communication channels.

Product availability:

· The Huawei IDEOS™ X3 will be available in Japan via SOFTBANK MOBILE Corp. from Spring 2011[1].

· The Huawei IDEOS™ S7 Slim will be available in April 2011.

· The Huawei HiLink will be available in Europe in Q2 2011.

· The Huawei Mobile WiFi Smartpro will be available in Q2 2011.