Huawei FreeBuds 3 go red for Valentine's Day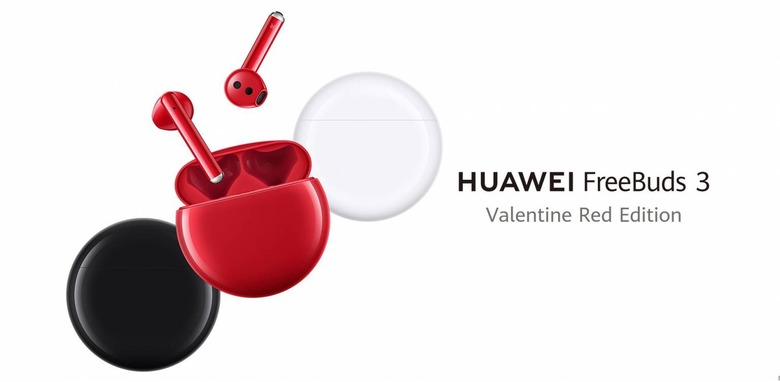 Valentine's Day is quickly approaching, and if you're on the lookout for a gift for your significant other, Huawei would like to draw your attention to its FreeBuds 3 wireless earbuds. First launched toward the end of 2019, Huawei announced a new color option for the FreeBuds 3 today: red. As Huawei's announcement today reads, the new color "evokes feelings of love and passion, celebrates modern relationships around the world, helping to bring people closer together."
While our cynical hearts say that a pair of earbuds likely isn't capable of eliciting such a deep, complex response, there's no denying that these new FreeBuds 3 are definitely very red. As far as we can tell, the only difference between this version and the FreeBuds 3 we saw last year is color.
That means you're getting the same Kirin A1 chipset that's at the core of the black and white earbuds, along with what Huawei calls a "Dolphin Bionic Design" that's meant to make them more comfortable to wear for long periods of time. The earbuds feature Active Noise Cancellation as well, which can be activated by double tapping the left earbud.
The FreeBuds 3 also have a bone sensor, which allows them to pick up your voice better in noisy environments. All of those features, however, means that battery life takes a little hit, with Huawei saying that the buds should be good for four hours of playback on a single charge. That's a little bit less than the quoted battery life for Apple's Airpods, which Freebuds 3 closely resemble.
Of course, that's where the charging case comes in, which can provide enough juice for up to 20 hours of playback. If this new red model has caught your eye like Huawei is hoping, you can pick up a pair for €179 from Huawei's website beginning today.