Huawei has launched an LTE-connected smart speaker and router, the Huawei AI Cube, complete with Alexa built-in, but the weirdest thing about it is the shape. Making its debut at IFA 2018 today, the Alexa speaker may be called a cube, but in fact it's a stubby cylinder. Huawei does say the design may change before launch, but what shouldn't are the capabilities.
So, on the one hand you're looking at a 4G router. There's an LTE Cat.6 modem inside, capable of up to 300 Mbps downlink speeds – carrier depending – and a SIM card slot to get it onto a cellular network. That connection can then be shared out via the AI Cube's WiFi 802.11ac 2×2 (2.4/5GHz) radio. There's also an ethernet port for data.
On the other hand, though, the Huawei AI Cube is also a smart speaker. Huawei has hooked up with Amazon Alexa, and so the router gets a four microphone array and a 15W mono speaker in its cylindrical casing. There are voice and mute keys on top, along with volume controls.
As such it can do whatever you'd expect an Amazon Echo to do. That means answering questions, controlling your smart home, playing music, and linking with thousands of third-party Alexa skills. The footprint might be relatively small, with the AI Cube standing around 8.6-inches high and about 4.6-inches in diameter, but Huawei claims the 400ml sound cavity and aluminum diaphragm of its speaker are enough for decent audio for music.
Indeed, it'll offer Huawei Histen, its audio-focused portfolio of features that includes virtual bass, a linear phase equalizer, and adaptive gain control. That also controls the far-field voice recognition, so that Alexa can hear you calling out from across the room.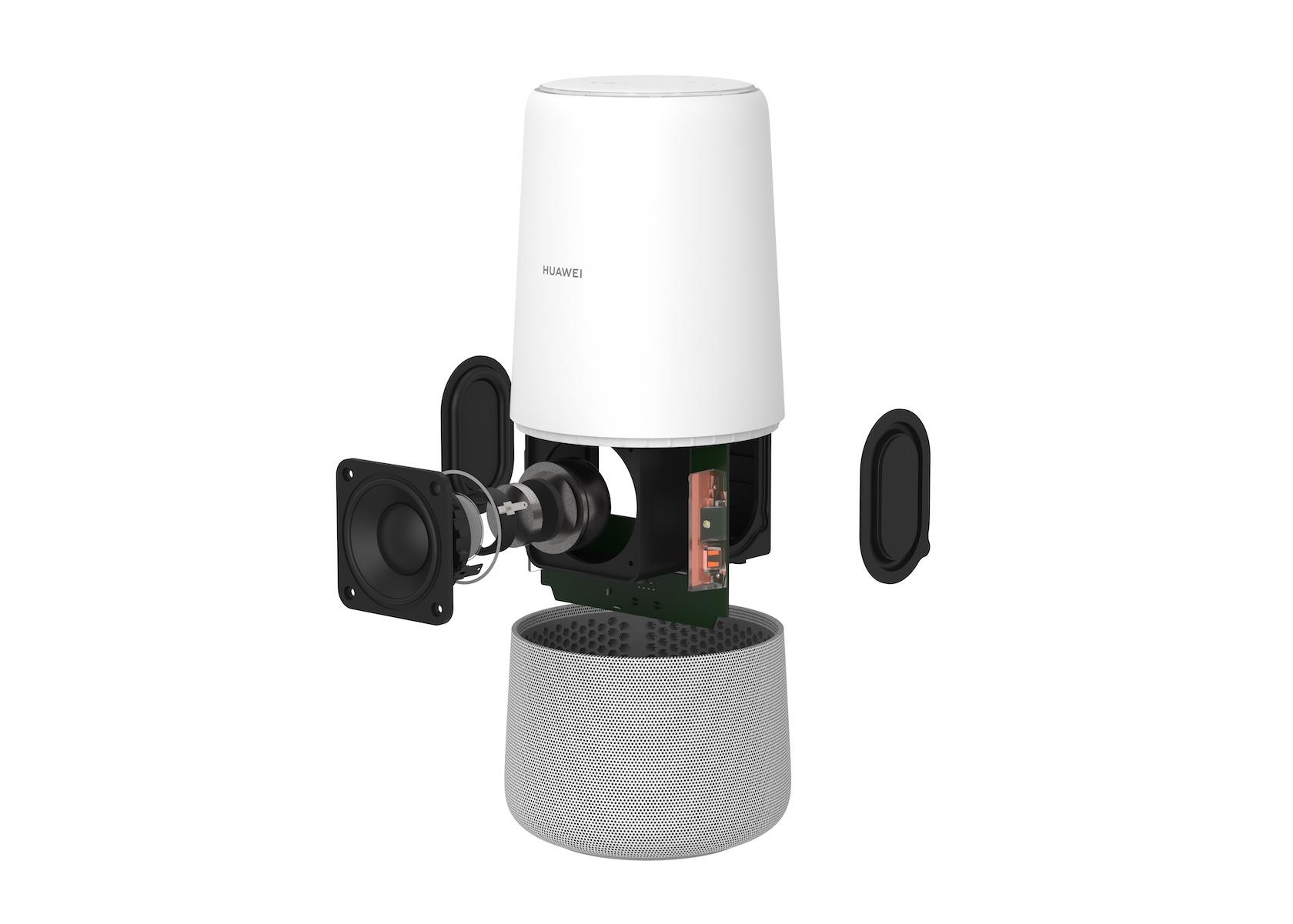 That's important, since though the cellular connection might be wireless, the AI Cube isn't. Like the name, though, there are some other odd decisions that Huawei has made. The biggest is probably that the 4G router lacks a battery of its own. Wherever you place it, you'll need to make sure it's within reach of a power outlet.
It leaves the AI Cube in a weird position: more of a semi-portable way to bring connectivity somewhere that cable, fiber, or DSL doesn't serve, rather than a more moveable solution. If you desperately want Alexa access without having to worry about finding both a WiFi network and an outlet, Huawei's router addresses half of those headaches at least.
Of course, that's assuming Huawei even launches it where you live. Right now the company suggests the AI Cube will go on sale in Europe around the holidays, though there's no word on pricing or whether it'll do that with a carrier partner. North American availability, though, is unconfirmed, and given the unwelcoming regulatory environment for Huawei in the US right now, it's not hard to imagine the company deciding to skip that market altogether.