HTC Zeta packing 2.5Ghz quad-core CPU detailed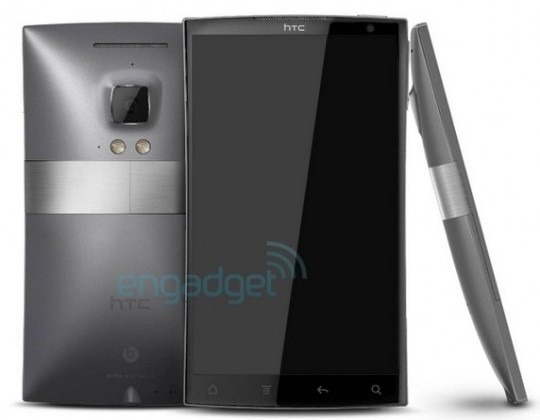 Details of the HTC Zeta have just been outed, and it looks to be a veritable monster of a phone. It's purported to pack an impressive 2.5 Ghz Snapdragon quad-core CPU, as well as 1 GB RAM, and all that on a 4.5 inch 720p high-def display. To add icing to the cake, it'll also come with Ice Cream Sandwich on board on the software side of things.
Along with Ice Cream Sandwich, the HTC Zeta comes naturally with HTC's own Sense UI, as well as an ample 32GB of internal storage, a 1830mAh battery, Bluetooth 4.0, and proprietary Beats Audio. On the media capture side, it also comes with a uniquely shaped 8MP camera with dual LED flash and a 1.3MP front-facing camera. All that's wrapped in a strangely shaped body of 9.8mm thickness and 5.15 ounces weight. No pricing or availability information revealed just yet.
This one's totally from the rumor mill coming from Engadget, so take everything with a grain of salt. That's a ridiculously powerful Snapdragon CPU, something not entirely seen in the current-gen of smartphone processors. Also, the sharp edges don't really relate to HTC's current design philosophy, but I'm not complaining if this is indeed the new flagship phone that'll be churned out by the Taiwanese smartphone manufacturer in a couple months or so.
[via Android Community]