HTC Vive Wireless Upgrade Kit By TPCAST Cuts The Wires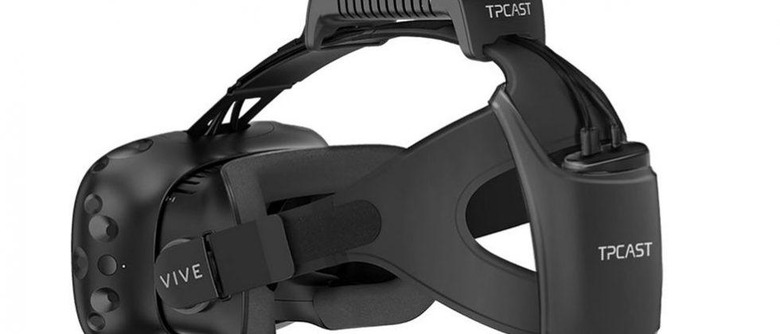 With the year coming to a close, HTC is showing off a cool upgrade kit that is expected to be available early next year for the Vive VR headset. The upgrade kit is made by TPCAST and cuts the tether from the headset. TPCAST was the first company to join the Vive X Accelerator that has 33 firms in the mix at this point.
The TPCAST device was previewed at the Alibaba 11/11 shopping festival in China. The TPCAST device cuts the wires that would normally run between the Vive headset and the monitor of the PC at the side of the room in the video below. Shedding those wires is huge for VR fans that worry about being tangled up and pulling their PC off a desk or table or damaging the Vive itself.
Alvin W. Graylin, China Regional President of Vive at HTC said that the TPCAST accessory would "greatly improve" the Vive experience and that it introduces no noticeable lag compared to the wired solution. This adapter could open the door for arcades to begin using the Vive headsets in multiple numbers at the same time since the wires wouldn't be a trip hazard.
The TPCAST accessory will be available to pre-order directly from the Vive Chinese website in a limited number for 1499 RMB, which is about $220.33 Stateside, starting on Friday at 7am Pacific. Shipments are expected to start in Q1 2017. To order the accessory doesn't require a Vive serial number, but orders will be prioritized for those who do have a valid serial number. There is no word on how limited the supply will be or if the device will be offered outside China. Graylin does think that tech like this could be an option for future products from HTC.
SOURCE: UploadVR