HTC VIVE Focus Plus Revealed With Upgraded Controllers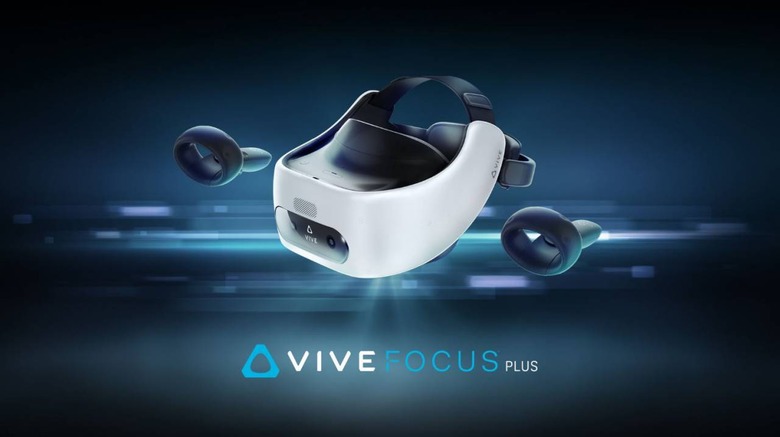 While many of us are probably interested in learning more about the VIVE Cosmos, HTC has announced another headset in its VIVE Focus line. The original VIVE Focus has only been available in western markets for a few months now, but that isn't stopping HTC from announcing the standalone VIVE Focus Plus today. As you might have already guessed from the name, this isn't so much a successor headset as it is a beefed up VIVE Focus.
The biggest upgrade comes in the form of new controllers. Gone is the single controller that shipped alongside the VIVE Focus, and it's been replaced by a pair of ultrasonic six degrees of freedom controllers that look more like what we're used to seeing from HTC. These controllers will allow users to control VR objects with pressure-sensitive inputs, so it sounds like the VIVE Focus Plus will offer a higher degree of accuracy than its predecessor.
The VIVE Focus Plus is still primarily aimed at enterprise customers, so average consumers likely won't have much use for it. For those business customers, the Focus Plus will offer things like Kiosk Mode and Gaze Support, along with tools that allow companies to remotely manage all of their headsets at once. The headset has also seen a few upgrades centered around comfort, as HTC says that it should rest easier on users' heads than the original did.
Since the Focus Plus is a standalone headset, it doesn't need to be tethered to a computer to work. Instead, it'll rely on a Snapdragon 835 to do the heavy lifting. It's worth pointing out that the original Focus also uses a Snapdragon 835, so there Focus Plus doesn't offer any kind of upgrade in terms of the CPU.
The VIVE Focus Plus will be launching at some point in Q2 2019. Pricing details haven't been announced yet, but HTC does say that the Focus Plus will be launching in 25 countries simultaneously this time around, with purchases in "most" of those markets including a free enterprise license. We'll keep an eye out for more information on the Focus Plus, so stay tuned for that.