HTC Ville C leaked in spec sheet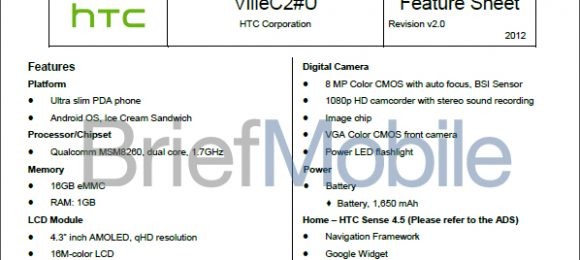 Remember the HTC VIlle? Turns out it may still be real. BriefMobile has been handed details of the device, called the HTC Ville C. It has almost identical specs to the HTC One S: a 4.3-inch qHD AMOLED display, 1GB of RAM, eight megapixel camera, and a "ultra slim" profile. The crucial difference seems to be that the Ville C will have a Snapdragon S3 processor instead of the S4 found in the One S.
The Ville C is listed as having a dual-core MSM8260 clocked at 1.7Ghz, but BriefMobile's source believes that this is a typo, and the clock speed is really 1.2Ghz. Other specs include 16GB of storage and a 1,650mAh battery, and most interestingly, Sense 4.5 rather than Sense 4.0 currently running on the One X, S, and V.
There's no other info right now, although it makes us wonder what carrier this device might land on. T-Mobile scooped up the One S in the United States, AT&T has the One X, and the HTC EVO 4G LTE was also recently launched. HTC still seems to be pushing ahead with more handsets despite the promise of a reduced portfolio this year, so we'll probably find out soon enough.