HTC U12 confirmed, briefly leaked by Verizon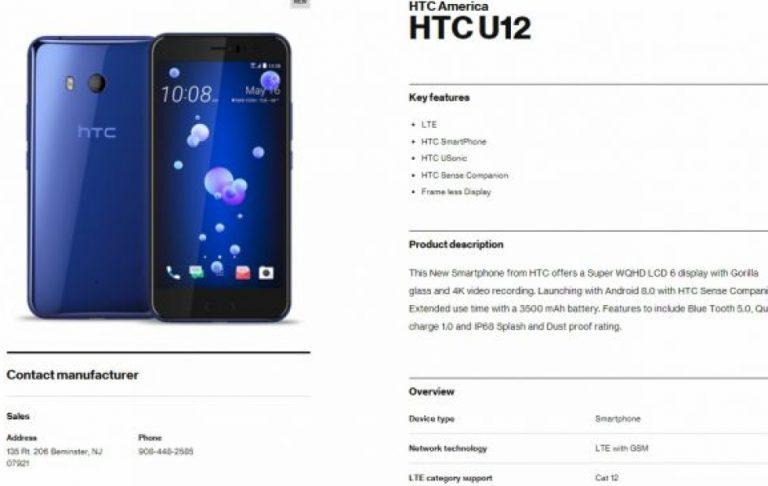 With the upcoming announcements for the LG G7 ThinQ and OnePlus 6, it might be too easy to forget that there are still two big brands that haven't made their play yet, namely Motorola and HTC. Given its continuing financial crisis, HTC's fate is perhaps a bit more interesting. The HTC U12, or U12+, however, has yet to even show a shadow but it seems that someone over at Verizon got wee bit too excited. A certain HTC U12 briefly popped up at the Carrier's Open Development site, the very same site that accidentally leaked the existence of 128 GB and 256 GB version of the Galaxy S9.
Given the use of a placeholder U11 image, the details the page reveals should be taken with a grain of salt. Actually a lot of salt. It mentions that the HTC U12 will have a 6.0-inch WQHD frame less display, perhaps the same as the HTC U11+ before it. It will also run Android 8.0 with HTC Sense, naturally. There's a 3,500 mAh battery which is definitely comforting and IP68 dust and water proof rating.
From there, things start to get a bit puzzling. It is noted to support only up to LTE Cat 12, which is way below the Snapdragon 845's Cat 18. There is also only Quick Charge 1.0 support, not even version 2.0 much less the latest 4+. Sadly, there is nothing on Verizon's website that answers the biggest question of all: will there be a notch?
The HTC U12, or U12+, might very well be the company's one and only flagship this year, which could boost it's image as a rare find. Whether it will be HTC's last smartphone will probably depend on whether the U12 will be able to offer something that this year's premium lineup so far haven't.
SOURCE: Verizon (Archived page)