HTC U (Ocean) has a new kind of touch surface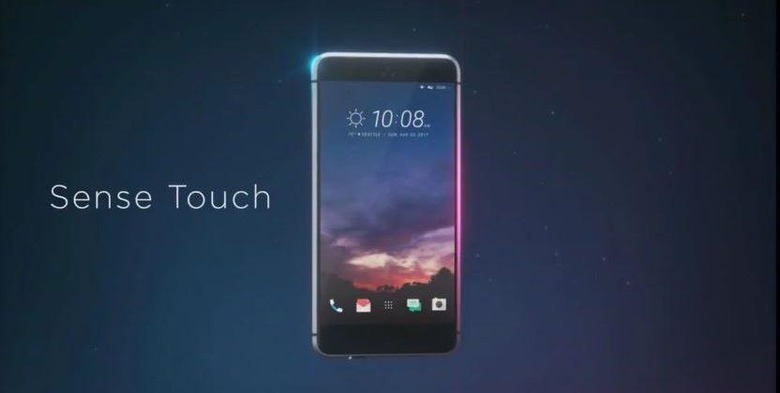 Even though tomorrow will be all about the Galaxy S8, HTC is sneaking into headlines this afternoon with a couple of interesting new rumors about its upcoming phone. Specifically, we're hearing about some features that will be present in the next phone in the HTC U lineup – confusing called simply "HTC U."
Weird naming conventions aside, the new information we're hearing today ranges from the unsurprising to exciting. First, the tame stuff: sources close to the development of the HTC U (codenamed Ocean) tell VentureBeat that the phone will ship with the latest version of HTC's Android UI, Sense 9.
Whether or not that's exciting depends, ultimately, on your own preference, but Sense has proven to be pretty divisive in the past. VentureBeat also claims that the phone will have a 5.5-inch display that clocks in at 2560x1440 resolution, use a Snapdragon 835 processor, and ship with Android 7.1. We're also told to look forward to a 12-megapixel camera around the back and a 16MP front-facing shooter.
All of that information is what you'd expect to hear from pre-release rumors about an upcoming handset. Things get really interesting, though, when these sources bring up the frame of the phone. Normally a phone's frame wouldn't be anything worth writing home about, but in the case of the HTC U, it most certainly is.
That's because the HTC U is said to sport a touch-sensitive frame that allows for customizable inputs. Beyond that, Edge Sense will offer contextual user interfaces depending on what you're doing – for instance, perhaps you'd swipe in one area of the frame to change volume while watching a video.
If this rumor proves to be true, then it'll be an interesting move by HTC that puts the HTC U in a better position to compete with Samsung's Galaxy brand. For a couple of years now, Galaxy phones have offered displays that curve around the edges of the device, allowing for additional touch options to be added to the sides of the screen. HTC may have discovered a way to do that without extending the phone's fragile display into an area that's more vulnerable to drops.
We might find out if this rumor holds any water soon enough, as HTC is said to be revealing the phone sometime in April. Assuming it is true and HTC manages to pull off a touch-sensitive frame, we could have a hit on our hands with the HTC U. Stay tuned, and in the meantime, head down to the comments section to let us know what you think of this.
SOURCE: VentureBeat