HTC Touch Pro on Sprint SlashGear Review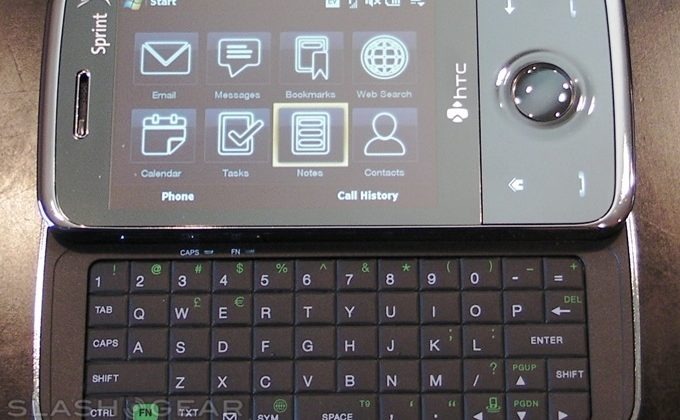 Sprint recently sent us the HTC Touch Pro, and we are absolutely loving it. We have had a few days to play with it and, so far, there are no major deal-breakers that we can see. HTC have taken the Touch Diamond and edged one step closer to perfection with the addition of a full 5-row QWERTY keyboard.
Included in the box there is the phone (of course), a 1GB MicroSD card with case, AC charger, USB data cable, an extra stylus, micro-USB headphone adapter, screen protector, belt holster and a wired stereo headset. The phone itself is a little thicker than previous HTC handsets, at 4.17 x 2.05 x 7-inches, however it only weighs 5.3 ounces, battery included. The display is the same 2.8-inch TFT-LCD VGA touchscreen from the Touch Diamond.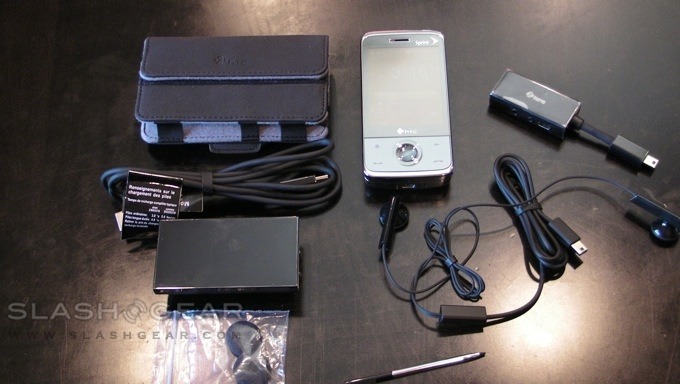 The keyboard is laid out perfectly, with designated number keys that don't feel crowded in any way. The enter and shift keys are twice as wide as the rest, making them easy to locate, and there are shortcuts to the messaging applications. Overall the keyboard seems a little smaller than on other HTC smartphones, but with no drop in usability. The overall thickness of the Touch Pro is larger than that of the original Touch Diamond, but it still remains very handy and usable.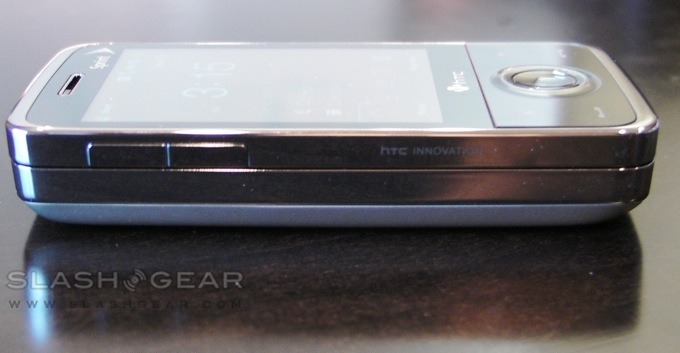 The Touch Pro has a 3.2-megapixel camera that also records video. Taking pictures is a breeze with auto-focus and built in flash; however there's no dedicated camera shortcut key, just an option in HTC's TouchFLO 3D user-interface. The Touch Pro is also capable of taking panoramic photos that are virtually seamless, and we've spent hours taking panoramic photos of everything in sight. Videos are of good quality in comparison to other smartphones.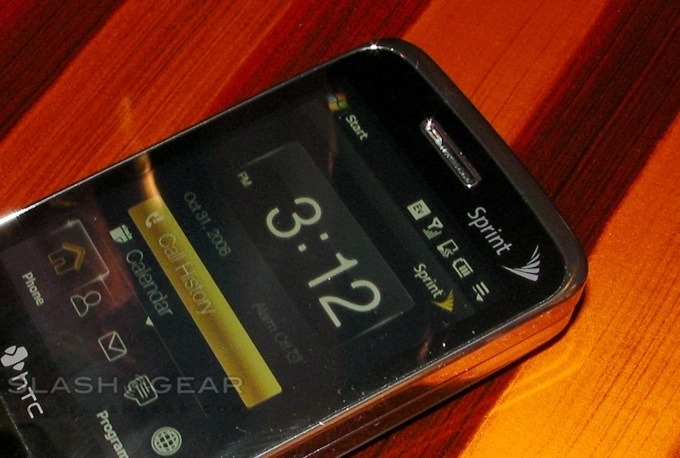 The HTC Touch Pro is loaded with plenty of pre-installed applications such as the Opera Browser, Internet Explorer and Windows Live Messenger. In addition to Windows Live Messenger there is another instant messaging client that supports AOL Instant Messenger, Windows Live and Yahoo Instant Messengers. The Touch Pro also comes with Adobe Reader LE, Excel Mobile, Live Search, JETCET PRINT 5, OneNote Mobile, PowerPoint Mobile, RSS Hub, YouTube and Word Mobile to name just a few.
Unfortunately, the processor does not seem to keep up with Windows Mobile 6.1 Pro very well. More often than not scrolling was very choppy and animations were not smooth. TouchFLO 3D did not live up to its potential in the Touch Pro because of the lag that Windows Mobile often had. However when the phone responded the way it was meant to it was very quick and easy to navigate. GPS was slower than you would like; when driving around the phone would display where you previously were, rather than your current location. The only time we felt the Touch Pro accurately tracked our location was when walking down the street.
Using your phone as a modem is very simple. Just plug the Touch Pro into your computer via USB, opening Internet Sharing, select either USB or Bluetooth PAN and hit connect to use your phone as a modem. Connection speeds are relatively quick using both USB and Bluetooth. Video output is surprisingly very good, and it seems a shame that many customers may never know just how crisp the video output of the HTC Touch Pro really is, because you must buy an additional cable to use this feature.
The ability to swap memory cards is quickly becoming more popular among new handsets. Personally we would rather have the option of using a memory card than having the 4GB internal memory that the Touch Diamond had. These days, being able to swap your cards between handsets, and have whatever amount of storage space you like is more covenant than being limited to a certain amount of space that cannot be transferred.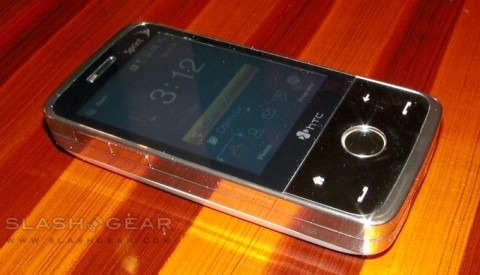 For the most part the Touch Pro can be used with your fingers rather than the included stylus. While the general user interface can be navigated with your fingers without much trouble, some options on the Start menu were harder to select because of the size of the option. The onscreen keyboard was surprisingly easy to use with only your fingers. We found it very odd that the onscreen keyboard only showed up while the physical keyboard was slid out. There was also an onscreen SureType keyboard for use when the device is closed. It appears to be laid out more for the right handed population, with the actual letter input keys further to the left preventing your thumb from being cramped up.
An obvious improvement to the next-gen Touch Pro would be the processor speed. The phone's processor never seemed to keep up with what was going on, whether it be instant messaging or just flipping through the main menu. Windows mobile did not seem to be the issue here, the phone itself was the under-achiever causing the Touch Pro to lag. More often than not, sliding out the keyboard would call for a 5+ second wait before the phone itself adapted to the change. Also we would like to see a designated camera button for quick photo opportunities. Having more control options such a touch and hold options would make this phone easier to navigate, even without multitouch. Overall, though, aside from the lag that we experienced, the Touch Pro is a fun and very stylish device that is capable of doing many different things. It all comes down to the keyboard, without it this phone would not be nearly as appealing.
We can see a lot of Instinct owners enjoying the Touch Pro. We recommend this phone to anyone who is looking for a device that is capable of doing a lot of useful tasks such as editing Word documents and receiving exchange email. The HTC Touch Pro is priced at $299.99 with a two- year contract , after a $100 mail-in-rebate and a $25-or-higher data add-on or Everything plan with data.
]