HTC Touch Diamond2 review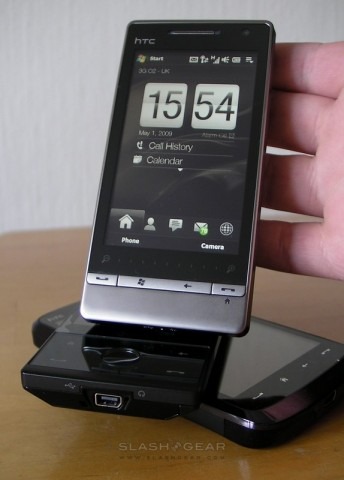 It's set to be a tough year for smartphones, and there's plenty of change afoot as companies battle amid tightening customer purse-strings.  The new iPhone is set to arrive over the summer; Palm's Pre is imminent, and Microsoft have the latest incarnation of Windows Mobile waiting in the wings.  Into that fray, HTC launch the Touch Diamond2, likely one of the last smartphones to use WM6.1 and an update to what was considered, when it launched a year ago, one of the game-changing handsets of Microsoft's platform.  Can the HTC Touch Diamond2 maintain that legacy, and will TouchFLO 3D improvements sufficiently mask the aging OS?  SlashGear set to finding out.
Physically, the Touch Diamond2 is larger in all dimensions than the original Diamond: 108 x 53 x 13.7mm for the new handset, versus 102 x 51 x 11.35mm for its predecessor.  It's also heavier – 117.5g versus 110g – though that's not noticeable in the hand.  Across the front, under the display, there's a touch-sensitive scroll strip, under which there are four buttons – send, Windows, back and end (which doubles as home) -  while on top there's the power/lock button.  The left side has the volume control, while the right is blank; the thin stylus draws out of the lower right-hand corner. 
Round the back there's the new 5-megapixel camera, and HTC have abandoned the textured finish of the first generation handset for a flat panel.  Underneath there's HTC's ExtUSB port, which carries USB 2.0 and audio signals simultaneously but can also be used with a standard mini-USB plug.  Wireless connectivity includes HSDPA (900/2100MHz) and quadband GSM/GPRS/EDGE (850/900/1800/1900MHz) together with WiFi b/g and Bluetooth 2.0+EDR.
Of course, the extra fascia space is given up to a larger touchscreen, now measuring in at 3.2-inches versus the Diamond's 2.8, and running at 480 x 800 WVGA resolution compared to VGA.  It's an excellent screen, bright and crisp, although the LCD panel appears a little more inset from the touchscreen layer than other HTC handsets.  We've not noticed any particular usability issue presented by that, however.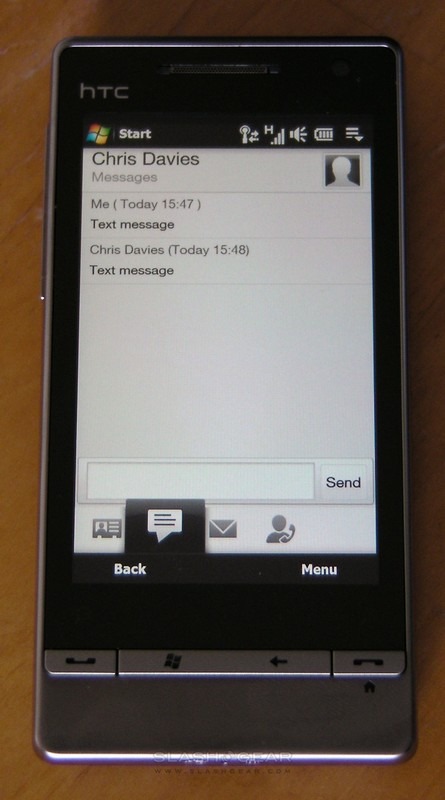 In terms of the underlying OS, both the Touch Diamond and the Diamond2 run the same: Windows Mobile 6.1.  Where the former device debuted HTC's TouchFLO 3D, though, the Diamond2 brings with it the latest, PeopleCentric version of the GUI.  TouchFLO has gradually evolved from a straightforward skinned launcher to an environment which hides most of WM6.1's key features.  Where the previous version allowed you to read SMS messages but dropped you into the standard messaging app to reply to them, now there's a threaded TouchFLO messaging system.  This is part of PeopleCentric: SMS is one tab of each contact record, along with email and call history, showing you what contact you've had with that person.
Other aspects, like creating or editing a contact, have had a makeover too.  There's now a more finger-friendly way to add numbers, photos and basic details to contacts, though anything more complex requires you to hit 'Advanced' and drop into the old-fashioned dialog.  HTC have also kept an eye on upgrading the Diamond2 to Windows Mobile 6.5, with the the switch from a 'home' to 'Windows' key in keeping with the demands of the new OS.  Pressing that – or tapping the on-screen Start icon – now jumps to the Programs pane of TouchFLO 3D, rather than the standard pull-down Start menu.  This is, according to HTC, more in line with WM6.5's default launcher, though for 6.1 users it takes a little getting used to.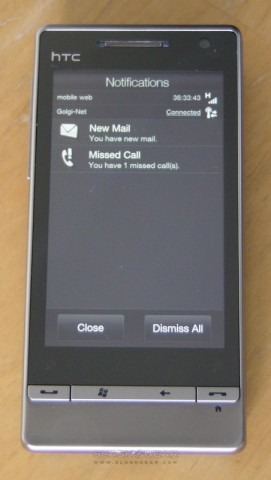 TouchFLO 3D's changes have extended to various pop-up alerts and menus, too.  Gone are the standard app menus triggered by the lower-right softkey; they're now reskinned, better animated, much larger and support kinetic scrolling.  Similarly messages like the power-off warning and alarm alerts have been redesigned, and look far more up-to-date.  A significant difference is in the behavior of the status bar: where tapping that on an HTC device used to call up a pane of buttons, linked to connectivity, battery status and the like, now it summons a single Notifications page.  This has a list of active connections, together with alerts such as New Mail or Missed Call, but confusingly has dropped the battery shortcut.  This was always useful to check battery status mid-charge; you now have to access the gage via the Settings menu, an extra few taps. 
Elsewhere there's a new search bar in the browser tab of TouchFLO 3D, which saves a tap, and the new Push Internet feature.  This allows you to set up to four different sites which you regularly check, and have the Diamond2 monitor them for you.  That way, even without a data connection you can read the latest version of the site that the Diamond2 cached; you can select how frequently updates are checked for, as well as turn off Push Internet altogether (or off when roaming).  Bear in mind, there's no way to control how deep into a site's links the phone will cache; in our experience it's the page you select and no further, so any outgoing links will require a connection.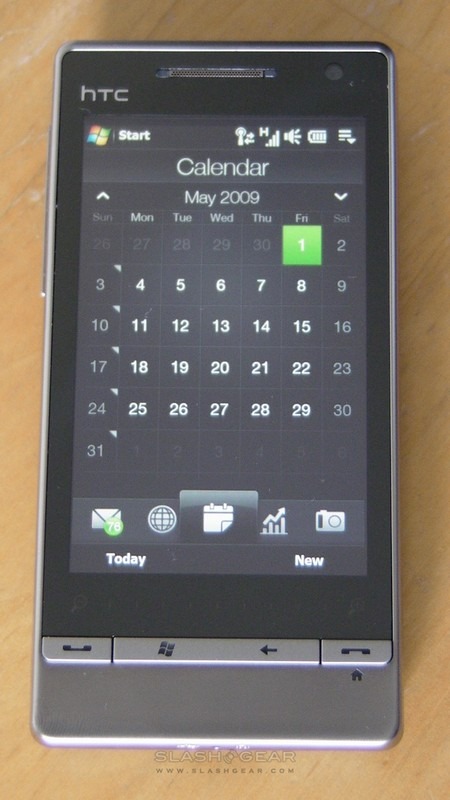 Also new is the calendar tab, offering day and month views of appointments.  This is certainly more aesthetically pleasing than Windows Mobile's standard app, although it lacks either week or year views.  Selecting a date in monthly view flicks over to that day's full schedule; however creating a new appointment drops you back into the standard dialog, rather than one of the new HTC pages.  We're a little unclear why HTC spent time making the contact entry form so harmonious with the rest of TouchFLO 3D, only to drop the ball in the calendar.
Other changes are smaller, though no less welcome.  The email tab now has a larger preview window that shows more text than before; a subtle difference, but it makes quickly flicking through your inbox more productive.  The weather tab gains the Touch HD's four day forecast running underneath the larger current weather indicator, making good use of the screen's high resolution.  Incidentally, you can preview all of the excellent weather animations by tapping first to the left and then the right of the Weather title.
In fact, as before there are plenty of neat touches.  The stylus is no longer magnetically latched, having a physical clip instead, but it still wakes the phone when pulled out.  Where the Diamond came with a fixed 4GB of storage and no way to add to that, the Diamond2 has a standard microSD card slot that, while requiring the back cover be removed, can be switched without pulling out the battery.  The connections manager – which allows you to toggle on and off Airplane Mode, the phone, Bluetooth, WiFi, ActiveSync and the data connection – will also now take you into the individual settings for each of those connections if you tap the icons on the left.
There are also, inevitably, some niggling usability flaws.  HTC's on-screen keyboard now offers more straightforward auto-complete of words – pressing space mid-way through tapping in a word automatically accepts the suggestion – but, in the SMS app at least, no longer auto-capitalizes at the start of a sentence.  It does, though, in the standard Windows Mobile apps.  HTC have also added screen rotation to the WM6.1 Messaging app, a much-requested feature, though it only rotates to the left and showed occasional visual glitches; strangely, the same rotation isn't possible in HTC's PeopleCentric version of the app.  Notifications are now redressed in the new TouchFLO 3D style, popping up from the bottom of the screen, but the snooze tab – which in WM6.1 let you choose multiple periods, from a few minutes to several hours – now defaults to just five minutes.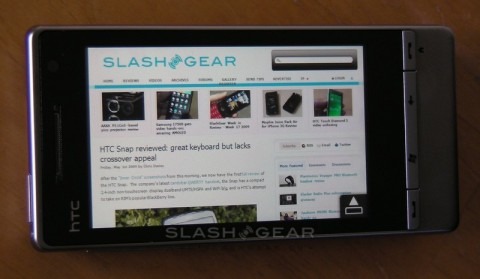 The touch-sensitive zoom bar seems chronically underused.  While it replaces Opera Mobile 9.5's on-screen zoom control (as seen on the Touch HD), as well as in the photo viewer, it has no effect on font size or anything we could find elsewhere.  An obvious implementation might have been volume or track-search control in the media player, or paging through the TouchFLO 3D tabs, but sadly not.  Another obvious shortcoming is the absence of a 3.5mm headphone jack; we had hoped HTC had finally seen the light after its inclusion on the Touch HD, but that doesn't appear to be the case.  Adding insult to injury, HTC don't include the mini-USB/headphone-jack breakout adapter in the box.
Voice call quality is excellent, much better than the Touch Diamond – which was never particularly a disappointment – with both parties clear and well-balanced, even at low volumes.  Similarly, Bluetooth performance showed little echo, and range was decent enough to have the Diamond2 tucked away in a pocket or bag.  WiFi signal tenacity was on a par with the Touch HD, itself an improvement over the Diamond, though we noticed the occasional delay in connecting.
Image quality from the 5-megapixel camera is similar to that of the Touch HD.  HTC told us at MWC that they realize other manufacturers are ahead of them in camera quality, and that rather than add a flash they preferred to make some more meaningful software tweaks.  There's perhaps a slight difference to shots taken with the Touch HD, but lighting and simply holding the phone steady are more significant factors.  Snaps are taken quicker than before, though, and the camera app itself loads faster; we miss not having a hardware camera button.
Media playback is unchanged over the Touch HD, with the same tab in TouchFLO 3D and Windows Media Player still lurking in the background if HTC's own app won't suffice.  It's a workable solution, but it's nowhere near as elegant as you'd find on the iPhone.  For its larger display and standard headphone jack, the Touch HD remains our Windows Mobile media-playback phone of choice.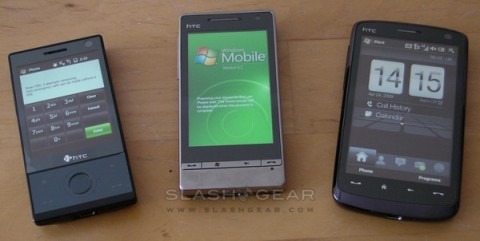 Overall, though, HTC have moved the Windows Mobile game on with the Touch Diamond2, producing a handset that's more attractive, more usable and more integrated than those that came before it.  Ironically, the handsets they've just bettered are generally their own: sometimes it seems as though HTC are the only Windows Mobile game in town. 
At MWC, the PeopleCentric announcement felt like HTC's answer to Palm's Synergy: a more connected way of handling information on a mobile device.  If we're honest, it can't quite live up to how Palm webOS manages data, but it's the best performing data management system on a Windows Mobile device we've seen.  The few consistency flaws we've run across – which could well be fixed in production firmware – haven't undermined how useful it can be to isolate conversations on a contact-by-contact basis, and if you've been looking for an excuse to tidy up your address book then this is it. 
The HTC Touch Diamond2 is, then, most of what's best about the Touch HD, with the compact scale of the original Diamond, and the cleverest incarnation of TouchFLO 3D.  That adds up to the best Windows Mobile 6.1 handset on the market, and one which is well-placed for the Windows Mobile 6.5 upgrade later on in 2009. 
[vms cf82ab059bfccbd02be6]