HTC Titan Review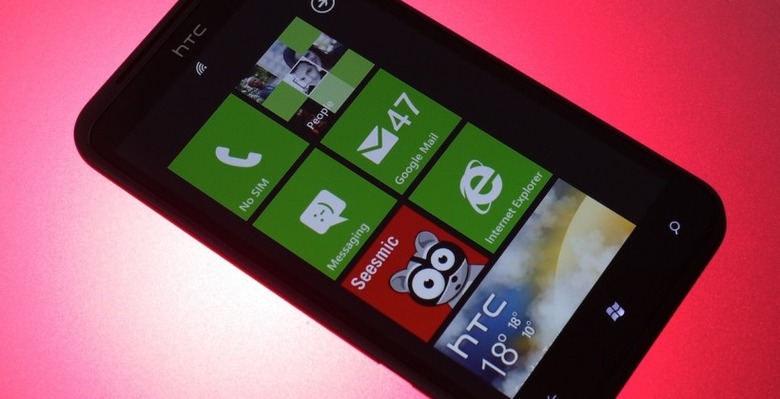 Rarely does a gadget's name quite so well describe its nature, as is the case with the HTC Titan. A huge 4.7-inch display packed into a battleship-strong metal chassis, the TItan is an unapologetic slab of Windows Phone 7. Question is, can Mango provide sufficient sweetness to balance the Titan's brutal charms, or are HTC's big ambitions in for an equally big fall? Check out the full SlashGear review to find out.
Hardware
We can't fault HTC's industrial design or build quality: the Titan is one of the company's most cohesive, solid handsets of the past year. The matte-finish black metal casing and bevelled toughened Gorilla Glass fascia come together beautifully, and the various logos and branding are discrete and thankfully chrome-free. If the Sensation XL – the Titan's Android-based equivalent – is the attention-seeking cousin then the Titan is the reserved, more timeless family member.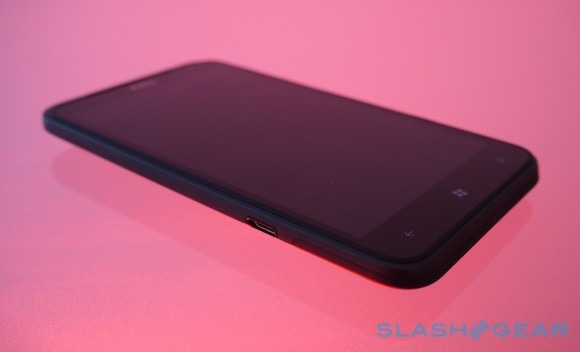 It's undoubtedly a large phone – 131.5 x 70.7 x 9.9 mm and 160g – but the combination of curves and angles in the sides mean it fits into average sized hands reasonably well. Physical controls are limited to power/standby on the top edge – alongside a 3.5mm headphone jack – then a volume rocker and a camera shortcut on the right edge, along with the touch-sensitive back, Start and search keys under the display. A microUSB port does charge and sync duty on the lower left edge, and you get two cameras: 8-megapixels on the back and 1.3-megapixels on the front.
Inside there's a 1.5GHz single-core processor, 50-percent faster than the original HTC HD7, paired with 512MB of RAM and 16GB of onboard storage (of which 12.63GB is user-available). Microsoft still refuses to allow expandable memory, so that twelve gigs and change are your lot, too. Connectivity includes triband UMTS/HSPA (up to 14.4Mbps downloads and 5.76Mbps uploads, network permitting), WiFi b/g/n and Bluetooth 2.1+EDR, while the usual bevy of sensors – GPS, gyroscope, G-sensor, digital compass, proximity and ambient light – are all onboard.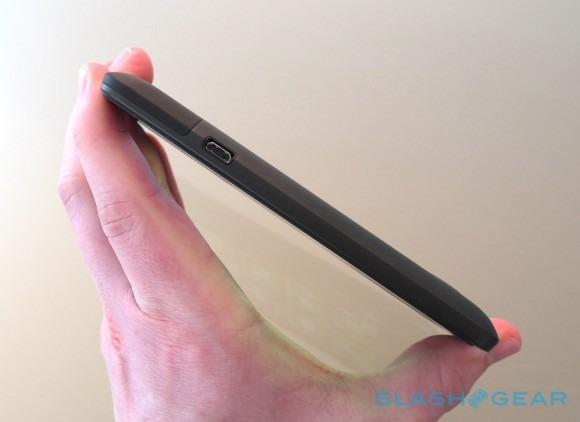 No NFC – there's currently no Windows Phone support for it anyway – and no FM radio, but the only lingering frustration is the absence of 1080p Full HD video recording. The 8-megapixel camera is limited by the processor and software, and as such 720p is all you'll squeeze out of it.
Display
Titan is an apt name when you consider the size of the display. Under that slab of toughened glass is a 4.7-inch Super LCD panel, the largest on an HTC Windows Phone handset so far, and in fact making the Titan the biggest phone running Microsoft's platform.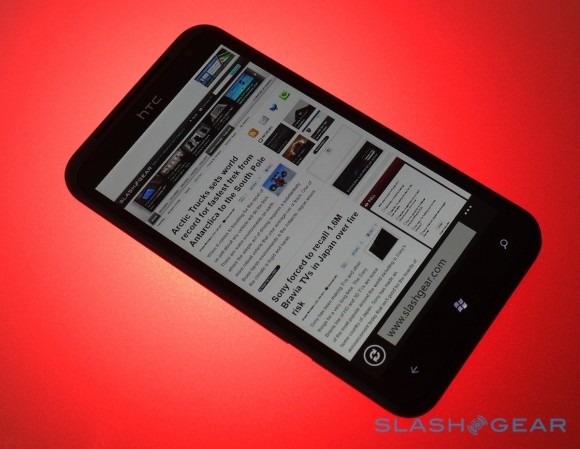 It's a bright screen with decent viewing angles and the colors look great, but the resolution is a disappointment. Windows Phone currently limits support to WVGA, which means despite the Titan's potential for packing in the pixels, you're actually stuck with 800 x 480. Considering qHD is already becoming the benchmark of sorts for high-end Android smartphones, that the iPhone has had 960 x 640 since the original iPhone 4, and we're now seeing high-end Samsung and LG handsets with 1280 x 720 displays, on paper it's easy to dismiss WVGA.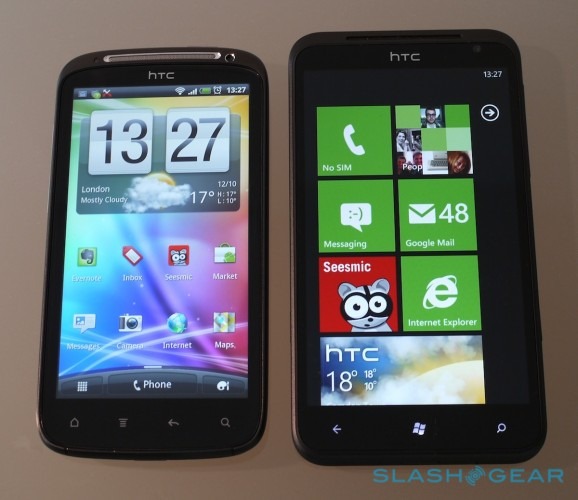 That would be premature, though. No, it may not have as many pixels as rivals, but the Titan does a fair job with what's on offer. The biggest issue is fonts, with some crunchiness or fuzziness around the edges noticeable in places, emphasized by Windows Phone's starkly minimal UI. Our main frustration is the sense of wasted potential: with the same resolution as the smallest Windows Phone on the market, you're getting no more emails, homescreen tiles or app graphics in view at any one time. They're just stretched bigger.
Software and Performance
The HTC Titan runs Windows Phone 7.5 Mango, Microsoft's latest update to its smartphone OS and the biggest single change to the platform since it debuted a year ago. We've already reviewed Mango comprehensively, and it's worth reading our full coverage to get up to speed with where Microsoft's software holds up and where it still shows its naivety.
Windows Phone 7.5 Mango Review:
[vms 524fbf7ea5c519ca397e]
In terms of modifications and tweaks, HTC is more limited in its options than on its Android range. The Titan gets the HTC Hub, the company's corralled collection of weather animations, news, stock updates and some promoted app downloads, while Photo Enhancer, Connected Media, Locations, Notes and HTC Watch are all preloaded.
It's the latter which will probably be the big draw for Titan buyers, the oversized display working well with HTC's streaming media service. Unfortunately, unlike with the HD7, there's no flip-out kickstand to prop the Titan up for hands-free viewing. Third-party software through the Windows Phone Marketplace remains a sparser selection than for Android or iPhone, though there are official Twitter and Facebook apps which are at least two important boxes ticked for consumer appeal.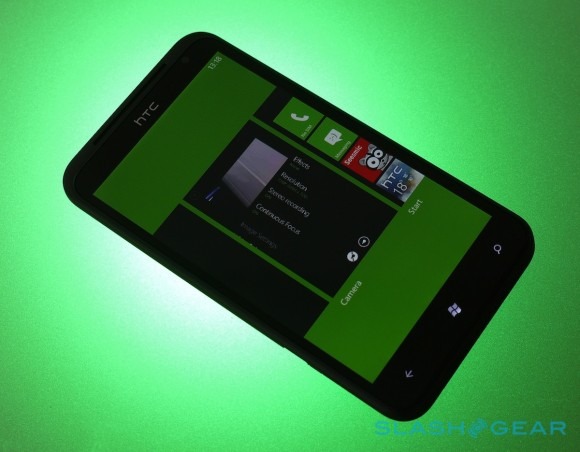 Performance from the 1.5GHz processor is slick, with menus and lists scrolling lag-free, image and webpage pinch-zooming smooth and no issues with the speed at which apps and webpages load. Mango brings its own performance improvements too, and the combination of software refinements and the boosted processor add up a device that had trouble handling whatever we threw at it. Microsoft has said it is confident that Windows Phone on a single-core is just as fast as rival platforms on dual-cores, and right now that doesn't seem too unbelievable.
Camera
HTC's cameras have been hit and miss in recent months, with some handsets offering excellent stills and video – like the myTouch 4G Slide, for instance – and others proving less impressive. The Titan's 8-megapixel backside illuminated (BSI) sensor, paired with an f2.2 wide-angle lens and dual-LED flash, falls in happily among the better of the company's offerings.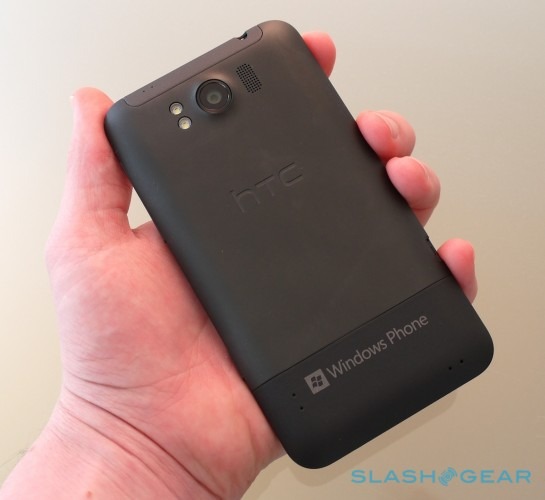 Windows Phone offers a small range of options, including some basic special effects, and there's a new Burst Mode that fires off multiple frames in rapid succession so that you can pick the best. Face detection and tap-to-focus work as expected, and the two-stage camera shortcut button – press halfway to lock focus, fully to fire off the shot – is useful if a little too high up the side of the phone to be entirely easy to press without stretching your finger.
The end result are clear, color-rich but reasonable accurate stills, with the Titan grabbing shots quickly after you hit the button and Windows Phone neatly filing them off to the side of the screen so you can keep shooting. Best results are, unsurprisingly, in daylight, though the Titan can get washed out with particularly bright scenes. Low-light performance is only fair, with the BSI sensor doing a better job than other phone cameras we've seen but still lacking the dusk/night skills of a dedicated camera. The dual-LED flash is bright but that can add up to overpowering at times, with closer subjects washed out and the background cast into murky gloom.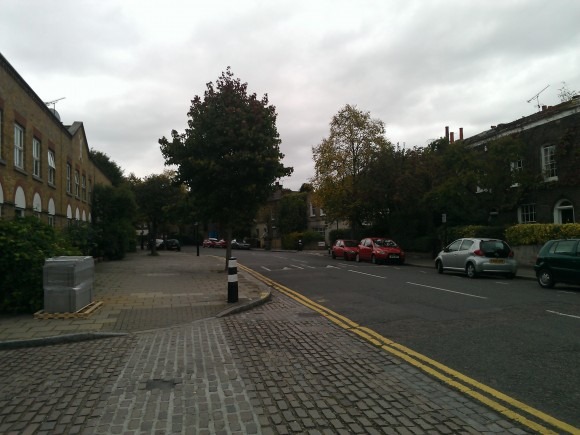 The front-facing camera may offer 1.3-megapixels, up from the VGA resolution on many rival devices, but it's still better suited to impromptu video calls – at least if there was a way to make them, since Windows Phone lacks a native app for that – than stills.
As for video recording, while Full HD would be nice we're limited to 720p on the Titan. Continuous focus and stereo audio recording are both options – the former on by default, the latter off – and happily there's now a "save settings" option which locks your choices in. Previous Windows Phones would reset you back to the VGA quality option (as well as lose any other settings changes you'd made) each time you reopened the camera app.
HTC Titan 720p HD video sample:
The resulting clips are good, with the heft of the Titan meaning it's easier to keep it stable than with lighter phones. Again, the camera prefers natural lighting – though you can use the LED flash as a video light – and there's some blurring at times, but it's nonetheless reasonable for a phone.
Phone and Battery
Voice calls on the Titan proved solid, with little in the way of hiss or fizz, and the earpiece cranks up to suitably booming levels. The speakerphone, meanwhile, is impressively loud though – unsurprisingly – trades volume for clarity at the top end. The Titan seemed reluctant to display as strong a WiFi signal as Android devices on the same wireless network, but had no problems actually maintaining the connection in our experience.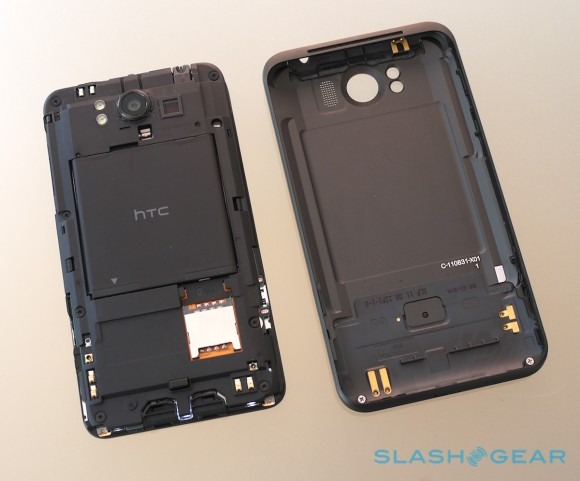 HTC suggests users will see up to 410 minutes 3G talktime (up to 710 minutes GSM) or up to 460 hours 3G standby (up to 360 hours GSM) from a single charge of the replaceable 1,600 mAh battery. Given the big screen and the faster processor, we expected the Titan to get breathless midway through the afternoon, but the smartphone surprised us with its longevity. Despite internet use, voice calls, push email being turned on, some photography and use of Bing Maps, we still reached the end of the day without seeing a battery warning.
Wrap-Up
The Titan is a phone of surprises. The big display leads you to expect a similarly impressive resolution, but HTC doesn't deliver that; on the flip-side, it also leaves you cautious about battery life, but the Titan had no trouble there. Windows Phone is still a relatively new OS, but with the Mango update it's already impressive. We know some still aren't keen on the pared down UI, but Microsoft's design language is consistent and a welcome change from what quickly seem over-stylized competing platforms.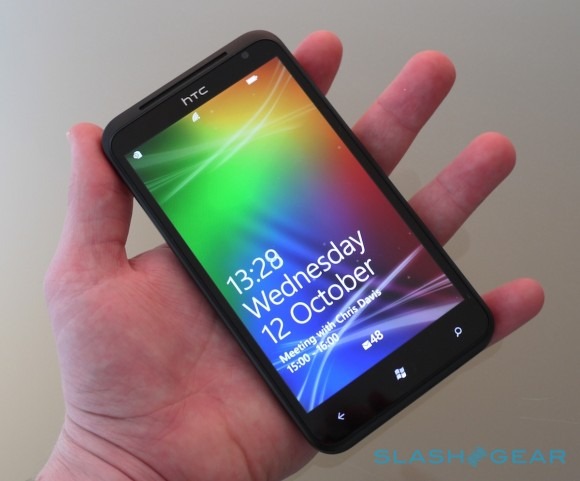 Unfortunately the Windows Phone Marketplace is still a corner store to its rivals' superstores, and that shortage of apps remains a turn-off to many. That, and the fact that the Titan may simply be, well, too titanic for some are the biggest issues HTC faces. Still, the company offers the smaller Radar if big isn't your idea of beautiful.
Those willing to grapple with the Titan, however, will find plenty to like. Build quality is second to none, the display delivers for multimedia and the camera is certainly one of HTC's best. Windows Phone, meanwhile, remains the smartphone wildcard, but we wouldn't doubt Microsoft's commitment to it. Things will see another shake-up when Nokia unveils its first Windows Phones later this month, but until then the HTC Titan takes a place very near the top of the pile.