HTC teases own Siri-like voice assistant app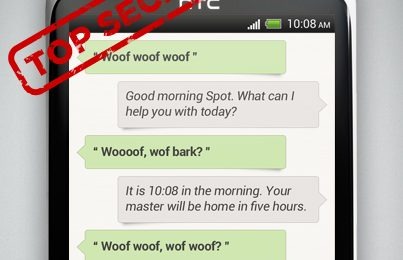 HTC looks to be working on its own version of Apple's Siri intelligent voice assistant app. The Taiwanese manufacturer posted a teaser image today revealing both an odd sense of humor and a potential Siri rival. Posted to both Facebook and Twitter, the image depicts what appears to be HTC's own assistant app interacting with a dog.
At the top of the image is a "Top Secret" stamp added perhaps for more intrigue. Then on the screen a dog named Spot asks HTC's voice assistant questions through a series of woofs to which the app is able to interpret and respond. However, HTC then puts inserts an asterisk saying "Sorry dog fans, this isn't real!"
So the app may not really be able to interpret dog barks, but what does appear real is that HTC is indeed planning to launch its own voice-assistant app. And that's not too surprising either since rival Samsung recently launched it's own Siri clone called S-Voice, while LG debuted a Quick Voice app.
[via TechRadar]