HTC sue Apple; petition ITC to freeze US iPhone, iPad & iPod imports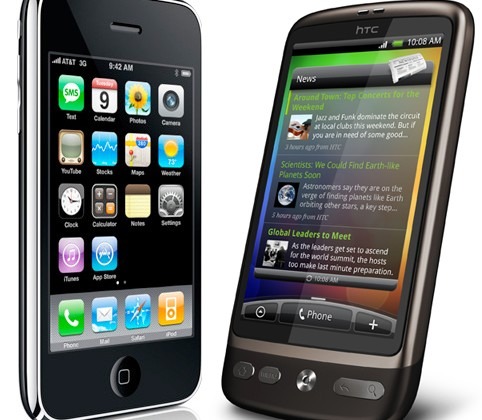 The ongoing legal bust-up between Apple and HTC has taken another turn for the litigious today, with HTC suing Apple for alleged patent infringement.  They're not just looking for a slap on the wrist and a chunky pay-check, either; HTC have filed a complaint with the ITC requesting that importation and sales of not only the iPhone but the iPod and iPad be halted in the US.
According to Jason Mackenzie, vice president of HTC in North America, "we are taking this action against Apple to protect our intellectual property, our industry partners, and most importantly our customers that use HTC phone."  Apple had previously sued HTC for alleged infringement of twenty Apple patents that are all related to the iPhone, whether its UI, architecture or hardware.
The likelihood of the ITC actually deciding to prevent Apple from importing some of its most popular products is – based on previous examples – highly slim.  Still, HTC's request is a sign nonetheless that they're not going to take the Cupertino company's legal threats lying down.
Press Release:
HTC Sues Apple for Patent Infringement

Complaint outlines five HTC patents infringed by Apple products

SEATTLE, May 12 /PRNewswire/ — HTC Corporation today took legal action against Apple Inc., filing a complaint with the United States International Trade Commission (ITC) to halt the importation and sale of the iPhone, iPad and iPod in the United States.

"As the innovator of the original Windows Mobile PocketPC Phone Edition in 2002 and the first Android smartphone in 2008, HTC believes the industry should be driven by healthy competition and innovation that offer consumers the best, most accessible mobile experiences possible," said Jason Mackenzie, vice president of North America, HTC Corporation. "We are taking this action against Apple to protect our intellectual property, our industry partners, and most importantly our customers that use HTC phones."

HTC's commitment to innovation has continued for more than a decade as it has focused on building a portfolio of the world's most advanced smartphones that are inspired by consumers and provide them with a variety of choices in software, design, form-factor, price and wireless carrier. Today, consumers in the United States can choose between 12 HTC smartphones with the national wireless carriers. HTC has continuously strived to bring innovative smartphone choices to consumers, like the recently unveiled HTC EVO 4G with Sprint, DROID Incredible by HTC with Verizon Wireless and the HTC HD2 with T-Mobile. For more information on HTC's long-standing commitment to consumers innovation and choice go to: www.htc.com/quietlybrilliant

About HTC

HTC Corporation (HTC) is one of the fastest growing companies in the mobile phone industry. By putting people at the center of everything it does, HTC creates innovative smartphones that better serve the lives and needs of individuals. For more information about HTC, please visit www.htc.com.