HTC Status Announced on AT&T Officially - HTC's Facebook phone comes to America!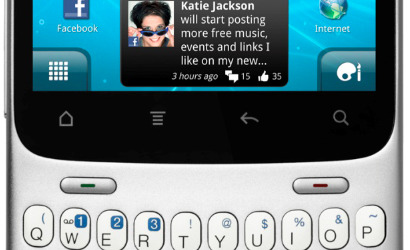 Perhaps you've heard of the cool, fresh, and QWERTY toting HTC device known as the ChaCha, aka the Facebook phone whose close cousin is the no-keys HTC Salsa, another device we expect to be coming to the states soon? We've heard of it too, and in fact my associate Chris Davies over there in the Euro side of the world has had a real good look at it in a full review. Well guess what? HTC's now got this device coming out on AT&T for real, USA style, in a style that's dedicated to Facebook in more ways than one. Check out that physical Facebook button and head in for the changes.
What you're going to get here is one touch to share, that being the Facebook button's ability to instantly share essentially whatever you've got on your screen at the time to your Facebook wall. There's also the ability to "instantly" share photos as you're taking them, a long-press of the button checks you in with Facebook Places (GPS-style,) and of course you've got the latest version of HTC's own custom user interface for Android, HTC Sense, to keep you company as well. With HTC Sense your lockscreen becomes a launch pad for whatever apps you like – just drag them to the ring and poof! You're there.
Because HTC is attentive to such things as phone calls on a phone – believe it or not – they've also integrated such things as your friend's profile pic (from Facebook or whatever you've assigned to them with the device itself) showing up when you get a phone call from them. If it's their birthday, you'll get a notification about that as well. No more excuses! You've got a VGA camera up front, a 5-megapixel camera on the back, and a full special effects suite built in to the phone for editing before uploading to Facebook again. Fun!
You'll get a 2.6-inch touchscreen here with 480x320 pixel resolution, Android 2.3 Gingerbread, the most advanced handset-based Android on the market, and 512 MB RAM and 512 MB ROM. Connections are along Quad-band GSM/GPRS/EDGE 850/900/1800/1900 UMTS/HSDPA 850/1900, your processor is a MSM7227 800 MHz chipset, and you've got a generous 1250 mAh battery backing you up for all-day working. Look for us to get you a full AT&T version review and hands-on with this device soon!