HTC Shift screen resolution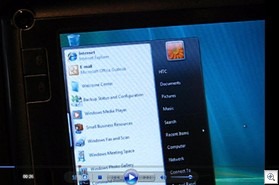 Alright, so I doubt any of you have forgotten the HTC Shift right? Well if you have it's the UMPC/PDA device that HTC is releasing that has a full keyboard and "Shifts" to show the keyboard and at the same time props the screen up at a viewable angle.
It also has 2 processors for two separate OS's, Vista and some sort of proprietary low power HTC OS. Well one of the few, and I do mean few, problems with the device is the low 800x480 screen resolution.
Apparently it has some voodoo technology in it (someone performed some technomancy) that allows it to artificially up the resolution to 1024x600. Usually this type of technology really just makes the screen and picture look like crap, well, that's apparently not the case according to a gentleman by the name of Steve "Chippy" Paine, he says it doesn't really look all that bad.
The HTC Shift Screen Resolution at 1024x600 [via gottabemobile]