HTC Sense evolves: DLNA, remote-wipe & HTCSense.com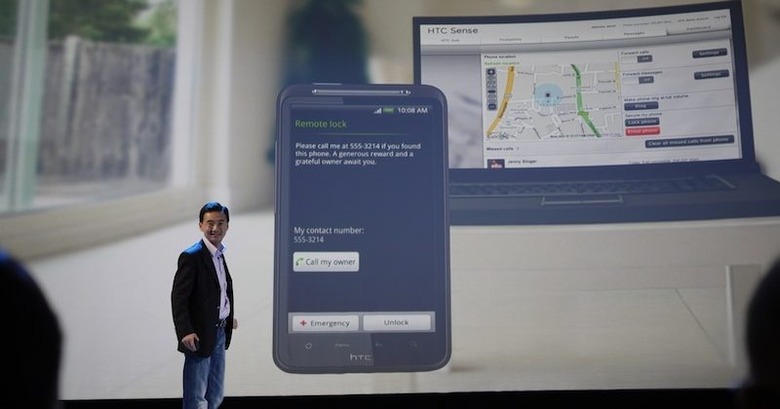 HTC has announced the latest iteration of their Sense UI for smartphones, and its brought along a web-based companion in the shape of HTCSense.com.  Described as a suite of services for managing, customizing and controlling the user experience from the phone or a PC, the new site is similar in some ways to Apple's MobileMe, with remote-wipe and location, but HTC has also put in DLNA streaming and more.
HTC reiterated that Sense isn't a UI, an overlay or an add-on: instead, they describe it as "an holistic experience filled with moments of delight."  They've reduced the boot time, down to just ten seconds, allowing for faster access to the call, messaging and other functionality.
There's also new caching in the mapping app, reducing the amount of time required to wait for the map to render, and incoming phone calls don't dominate the screen but instead slide up at the bottom.  When you're waiting at traffic lights, the map can show a fast-forward of the upcoming turns you'll need to take, preparing you for the route.
There's also wireless streaming using DLNA, either to a TV with the wireless functionality built-in, or using HTC's new wireless TV adapter box that plugs in via HDMI.
Every conversation – whether via SMS or email – you have on the phone is backed up wirelessly to HTCSense.com, allowing you to access them through the web interface.  You can then check out directions and other details, and sync them wirelessly to the phone.
Like MobileMe, there's a phone-locator tool on HTCSense.com: you click the ring button and hear the phone.  If you've left the phone at home, you can log in remotely via the site and then have all your calls forwarded.  You can remotely lock the phone, and leave a "lost" message that can show on the screen of the handset with a "Call my owner" button.  Finally, an erase phone button lets you wipe the handset remotely.