HTC S743 smartphone with US-spec HSDPA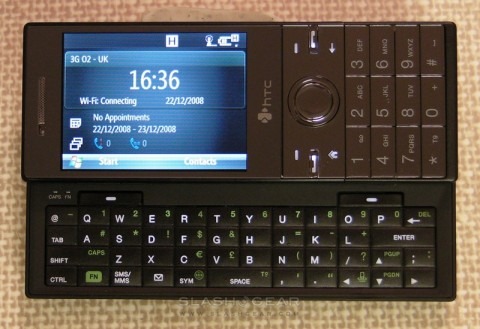 HTC have announced their latest US smartphone, the HTC S743, an 850/1900 MHz version of the S740 available in Europe and which we reviewed here.  The handset runs Windows Mobile 6.1 Standard, and while lacking a touchscreen has both a numeric keypad and slide-out full QWERTY keyboard.
Measuring 1.7-inches wide, the S743 offers a more traditional candybar form-factor and pocket-friendly size.  Nonetheless, it still supports Exchange for push email and remote synchronization, high-speed HSDPA and WiFi, together with A-GPS.  It also has a 3.2-megapixel camera and 2.4-inch QVGA display.
The HTC S743 will go on sale in Q1 2009.  It will be sold unlocked, price as yet unannounced; HTC have confirmed availability at dell.com and cdw.com.
Press Release:
Sleek and sophisticated HTC S743 comes to the US market

Slim, stylish smartphone combines conventional navigation with unconventional capability

BELLEVUE, Wash. – January 6, 2009 – HTC Corporation, a global leader in mobile design and innovation, today unveiled the HTC S743, a compelling fusion of style and power. By combining a traditional 12-key keypad design with a full slide-out QWERTY keyboard, the HTC S743 was created to bring the muscle of Windows® Mobile 6.1 to customers who prefer a more traditional user interface. The HTC S743, which supports high-speed HSDPA (850/1900 MHz) networks, will be available through select retail outlets, including dell.com and cdw.com, during the first quarter of 2009.

"While others are content focusing on a single design or user interface, HTC is dedicated to bringing the benefits of mobile convergence to all consumers, without forcing them to use a device that doesn't truly fit their lifestyle," said Jason Mackenzie, vice president of HTC America. "The HTC S743, which packs high-design and high-performance into a trim 4.9 ounce package, is a great example of HTC's rejection of a 'one-size-fits-all' philosophy."

Featuring the same 'faceted' design first implemented in the highly popular HTC Touch Diamond™, the HTC S743 was also engineered to deliver an outstanding voice experience. At a mere 1.7 inches wide, the HTC S743 fits comfortably into the palm of the hand, allowing for ergonomic and comfortable voice calls. Despite its narrow profile, the HTC S743 still boasts a large and bright 2.4 inch QVGA display for reading and responding to e-mail and SMS or accessing the Internet.

With its full QWERTY keyboard, the HTC S743 is able to take advantage of its full suite of messaging options. As a Windows Mobile 6.1 based device, the HTC S743 interfaces seamlessly with Microsoft Exchange as well as personal POP3 and IMAP4 email protocols. Along with SMS and MMS messaging, support for a number of instant messaging standards is included with the HTC S743, making it fast and easy to stay in touch with friends and family while on the go.

The HTC S743 marks the latest HTC device to be made available through independent channels in the US. Underscoring its commitment to delivering choice to the smartphone market, US consumers can choose from unique HTC devices including the GSM variant of the HTC Touch Diamond and the HTC Touch Dual™ through a number of electronics retailers including national retailers, independent wireless outlets and online e-tailers such as dell.com and cdw.com.

About HTC

Founded in 1997, HTC Corporation (HTC) designs innovative, feature rich smartphones. Since its establishment, HTC has developed strong R&D capabilities, pioneered many new designs and product innovations and launched state-of-the-art PDA Phones and smartphones for mobile operators and distributors in Europe, the US, and Asia. These machines are available as HTC devices and as products individually customized for operator and device partners.

HTC is one of the fastest growing companies in the mobile device market. The company is listed on the Taiwan Stock Exchange under ticker 2498. For more information about HTC, please visit www.htc.com.